Last weekend I started trying to find the Czech village of origin for Mariana Žídek. It turned out to be Brušperk. You can read about that research here.
Along the way, I noticed that Mariana's daughter, Mariana Genzer, had some weird discrepancies on her Find-A-Grave page. For example, the first confusing thing was that she was allegedly born on 23 May 1856.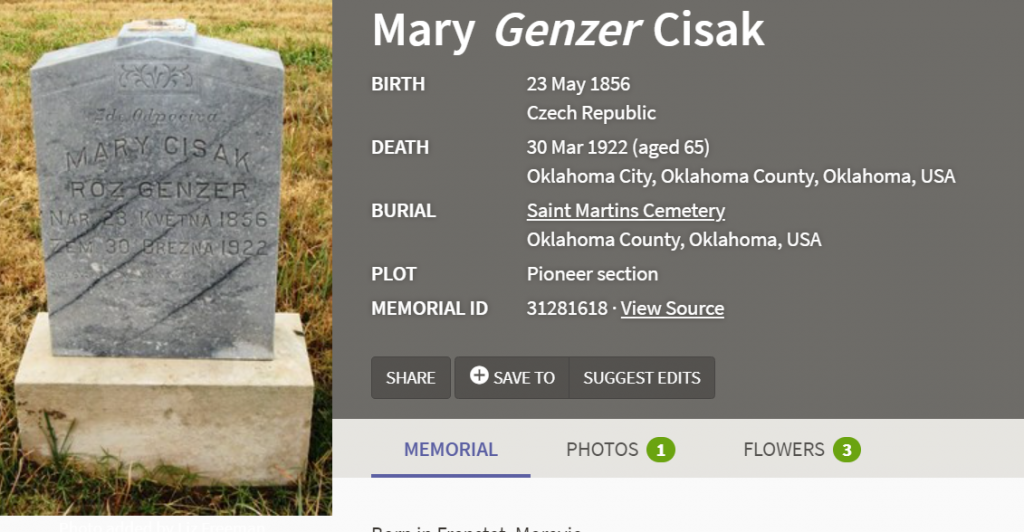 Well, I checked the Frenštát registers, and that was not true.
I thought maybe there was a baby born earlier to the couple, but no. This Mary was born in 1859. So yes, it appears that there was a typo. 1856 is supposed to be 1859. I suppose that is an innocent enough mistake to make; you probably shouldn't go into headstone carving if you're lysdexic but, you know. Whatever.
But would they really have messed up her entire surname!? That seemed less plausible to me.
Pilgrims for Hope, Vol II says she married a Zrubek. Was that even true?
The key to solving this mystery was actually in a comment on Find-A-Grave by my xth cousin, Angelina: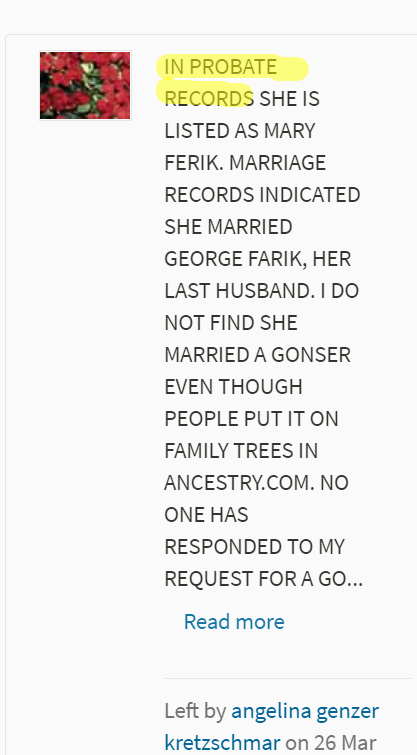 So then I thought, hey why not look at the probate records. I looked in the index under Císak or Čísak or even Chesak, but to no avail. I looked under Genzer and Zrubek. Nothing. I looked under Farik, nothing. So then I looked under Ferik, and ding ding ding!

I wish I had more ancestors who lived in Oklahoma, because these probate records are amazing. From page one I could tell that this was the exact same person in question because of all the relationships given.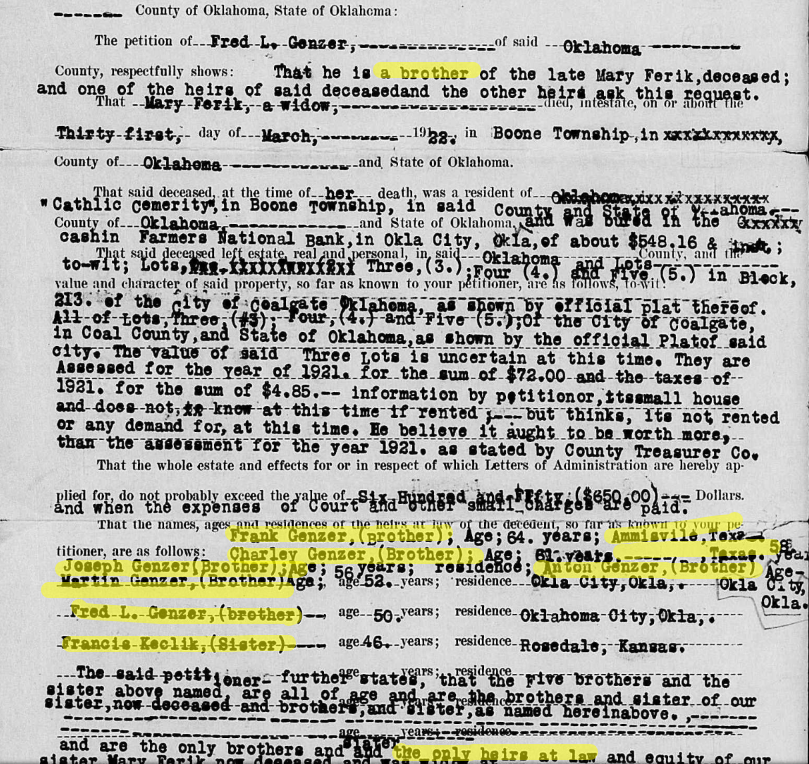 Some 39 pages in, we see: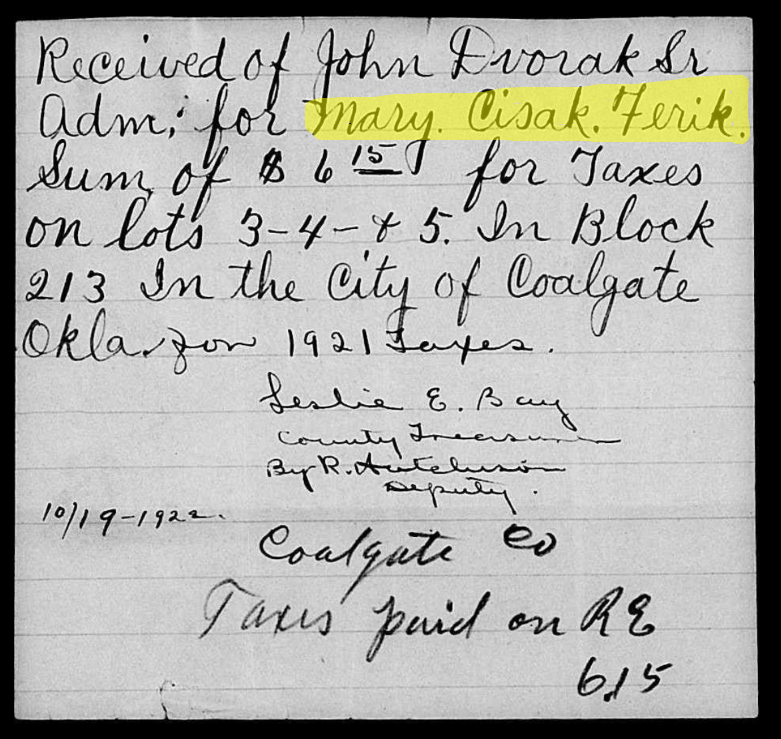 Yes. This Mary Ferik is undeniably the same person as the person on the headstone.
This establishes that Mary Genzer married both a person named Cisak and then later someone named Ferik, and that she lived in Colgate, Oklahoma.
So that led me to look up marriage records. I found Mary Cisak marrying George Farik on 17 July 1908 in Coalgate, Coal County, Oklahoma.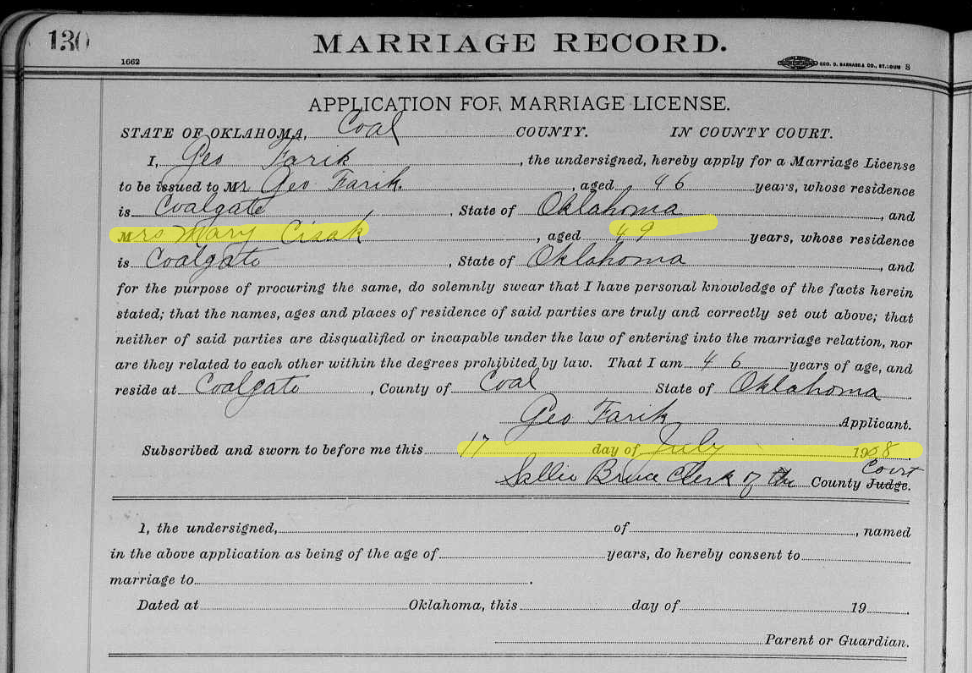 And this is where the plot thickens. Here she is in 1920, alone. Did George Ferik die before 1920?

And why was Mary buried as CISAK, rather than Ferik? And is it really Čísak? I think it is but… I am not totally sure.
I have the 1880 Genzer passport application, and Mary is not on it, perhaps suggesting she stayed behind and married Čísak there.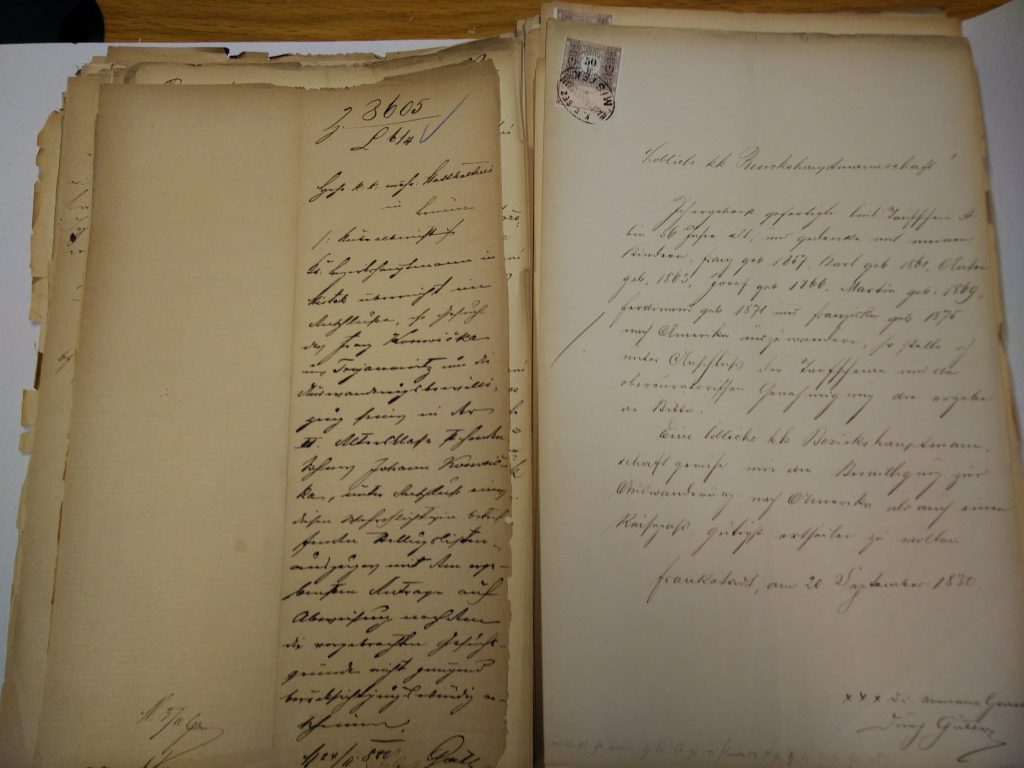 I do not think it is a coincidence that there is an Adalbert Čísak living in Coalgate, Coal County, Oklahoma. At first I thought this could be her first husband, who she might have married before she came.
I found this guy on an ancestry tree, and found that it pointed to an immigration record of 1905, through Galveston.

To brother Stanislaw in Coalgate… Indiana? I really do not read Oklahoma, but that is okay.
It looked like this family came from Moravsk. Privoz. So I tried to find a place by that name and lo and behold, Přívoz is a place in Ostrava.
And after a lot of searching, I found Vojtěch aka Adalbert there, on the 1900 birth record of his daughter Anna.

All the other US censuses say that this guy is Polish. I kind of think that Čísak was a Pole living in Ostrava, and that he was from a place called Brzesko, Galicia.
I could not find a marriage record for my Mary to a Čísak in this area, though. Drat.
I wonder if Stanislaw is a lead. The timeline seems to be something like:
Mary is born in 1859
Mary does not go with her family to America in 1880; perhaps she is already married by then?
Mary is already in the USA by 1908, when she marries for a second time (George Farik)
George either dies before 1920 or she divorces him
Mary dies in 1922 and is buried with her family
She had no heirs. Hmm.
I will have to keep searching for her mysterious husband. I thought I had this one all figured out, but then, nooo… haha.