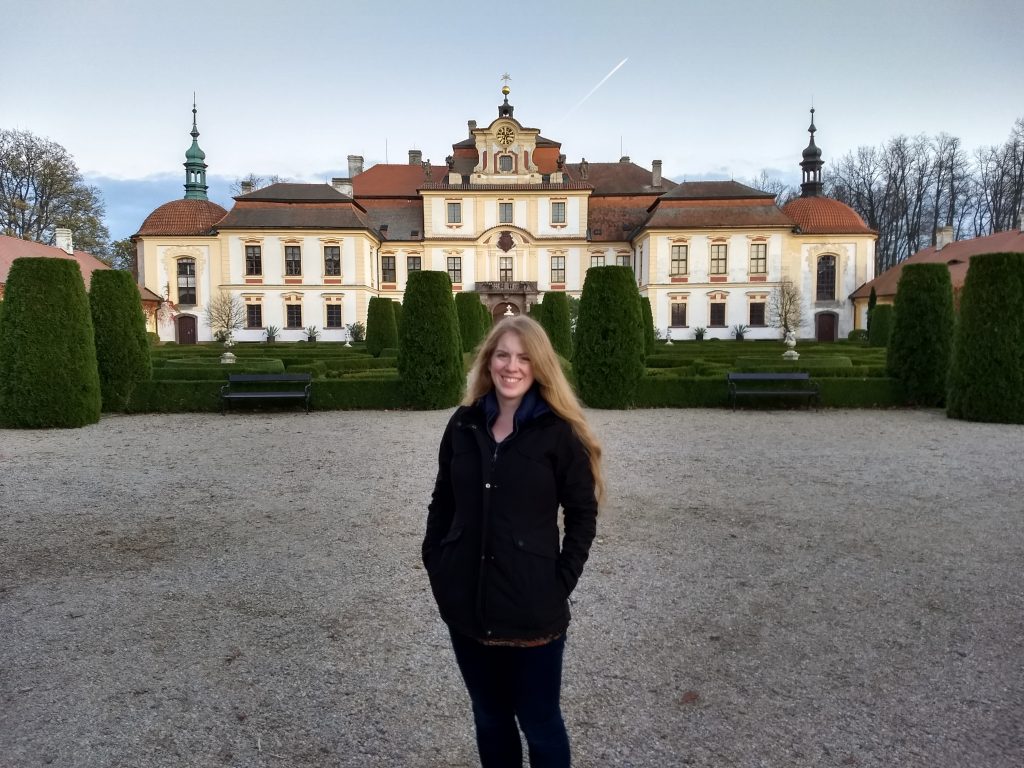 My name is Katherine Elizabeth Vasicek Challis, but I go by Kate. I am a fifth generation Texas Czech. I am passionate about history, research, and languages. I love the mystery of deciphering old documents and analyzing the information they contain to form an understanding of the past. I am particularly interested in Czech records and research. My enthusiasm and energy for genealogy is driven in part by the need to do something meaningful and worthwhile that will last.
I have a BA in French Teaching with a minor in TESOL K-12 (BYU '09). I taught Arabic to grades 6-9 at a charter school for a little over two years. I currently stay home with my four children, ages 3-8. I am married to the most wonderful man in the world, Daniel Richard Challis (Danny) whom I love with all my heart (even though he is not Czech!).
I have always enjoyed old things. As a young girl, I loved to look at the oldest photographs in our family photo album. I have always kept a personal journal. This interest became a passion as I went to BYU and began to learn more about the genealogical research processes. I took a class on Family History while an undergraduate. I began to spend all my free time between classes at the BYU Family History Library, looking at microfilms and books. My husband and I started spending our weekends on expeditions to places like the Daughters of the Utah Pioneer Museum, the Utah State Archives, and of course the amazing Family History Library in Salt Lake City.
Since 2007, I have been actively researching my own family, with a special focus on my Czech Ancestry. I have been able to solve many difficult problems and trace my direct line ancestry back further than anyone had previously thought possible. I have made contact with distant cousins here and in Moravia, and have become highly proficient at reading and analyzing Czech Parish Registers. I understand the history and culture of the Czech lands, and the motivations for immigration. I specialize in finding the village of origin for Czechs immigrating to the United States. It was this deep interest and passion that inspired me to delve into my genealogy. On the way, I discovered that I have to learn Czech, which you can read about here. (Can you say "voda se třpytila"?)
Memberships, Titles, and Projects
Marketing specialist for CGSI since November 2017
Admin of GeneaBloggersTRIBE since June 2017
Member of CGSI (Czechoslovak Genealogical Society International) since July 2016
Member of the Iowa Genealogical Society since October 2013
Member of the National Genealogical Society since May 2013
Local LDS Family History Center Consultant since 2012
Member of Texas Czech Yahoo Group since 2008
Classes and Conferences Attended
Presenter at Picture Yourself In Your Family Tree: Des Moines and Des Moines Mt. Pisgah bi-stake Family History Conference, October 2017
RootsTech 2017
3S Genealogy Symposium hosted by the Friench Simpson Memorial Library in Hallettsville, TX, 2012
Texas Czech Genealogy Society Conference "Bugs 'N' All" 2011
Family History class at BYU, Winter 2007
If Czech Genealogy were a mountain, then it would be quite steep and arduous to climb. It is much more fun to do it with others. Over the years, I have developed some close friendships with others who share this deep interest, some of whom are my distant Czech cousins. Now we work together using our wide and diverse variety of skill sets to solve your Czech Genealogy research problems and connect you to your Czech Heritage.
This blog is a place for us to showcase case studies, research methods and strategies, questions, history, and basically all things related to Czech Genealogy. We hope you will find it useful and interesting, and especially that you will know that you are not alone in this journey.