During the course of researching the DNA case which we were successfully able to solve, and which I hope to write about in the future, I came across some interesting family stories including one about how Otto Weige murdered his pregnant wife, Louisa Miller (see here).
My match's cousin asked how I could be certain that this Louisa Miller was the same Louise Mueller who married Otto Weige.
Here is the connection which I made: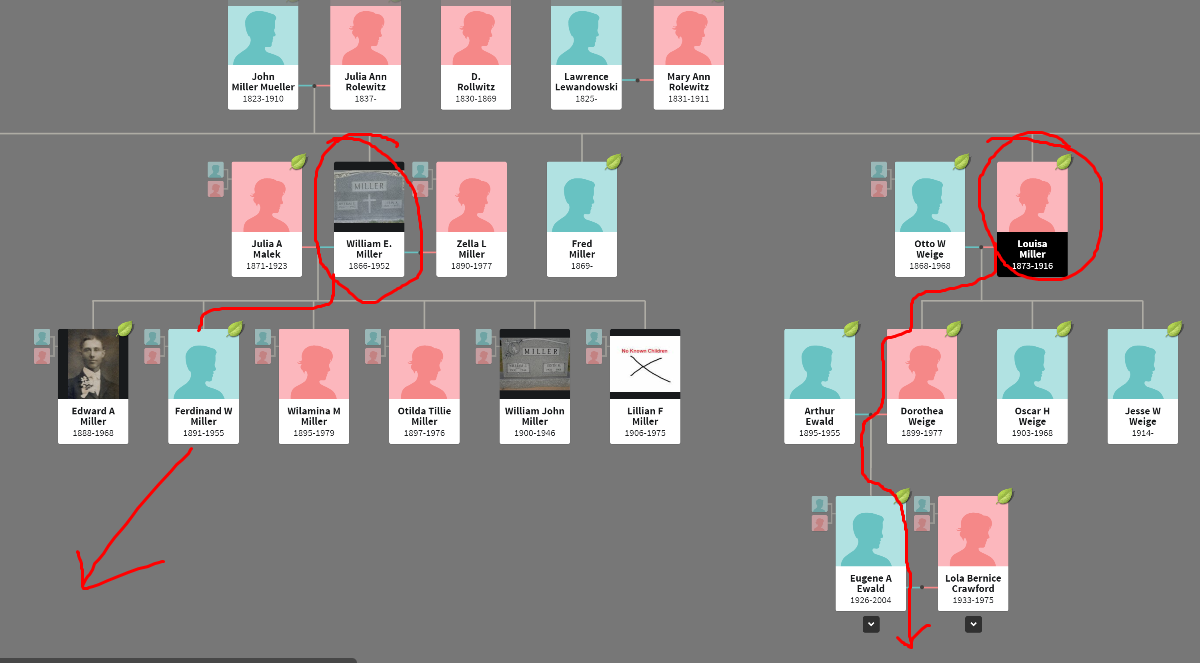 (at the time, I wasn't sure which Miller my match was descended through. Turns out it was through Ferdinand).
I used DNA evidence for the first time in a proof argument and this is what I wrote:
I was looking for information about the Louisa Miller on this 
1880 census
.

She would be a daughter of John Miller and a sister to August, John William, and Amile (Emil?). This family was living in Fayetteville, Fayette County, Texas at the time. The father was 56, born in Germany. All the children were born in Texas.
On the 
1870 census
 the family went by Miller and was still living in Fayetteville, Fayette County.

HOWEVER, this same Miller family on other peoples' trees sometimes goes by "Mueller." Also, I know that Mueller/Müller is the German spelling for Miller, and this family had immigrated fairly recently. Recently enough that the father, John Miller was born in Germany.

My match has a DNA match who is 46 cM with the username "x" [changed here, obviously]. This person has shared matches to several of the other Czech matches who are NOT matches to me and my dad. These other matches all share the Miller family in common – some as far back as the Rolowitz's, some closer in the Miller family. I have been messaging with x and she is the great granddaughter of Louisa Mueller and Otto Weige. She knew this story, and in fact had met Otto as a child!! That was pretty creepy.
All of the other branches of her family do not lead to this particular area of Texas. But I noticed that Louisa Mueller was said to have been born in Fayetteville, Texas. We get this fact from her death certificate in 
1916
, the one that is really sad. The informant was one of their children, I think. He did not know the parents. New Ulm and Fayetteville are about 13 miles away from each other, by the way.
So: I know that my match and this person with this tree have to be related in some way that is relatively "
close
" – as in, unless there is some kind of non paternity event, if my tree is big enough going backwards and forwards, I should be able to find the match. I also know that this Louisa Weige was born in same place at the same time as the person on the 1880 census who I am looking for (chances are the family didn't move out of Fayetteville and back to Fayetteville between 1870 and 1880). I also know that more distant branches of the family spelled the surname Miller as Mueller and Müller, and indeed, I suspect that spelling only comes from the 
1898 marriage record
 to Otto Weige. These are the reasons why I suspect this is a match to the same person.
I could definitely be wrong, but this is my best guess.
My other match agreed this sounded plausible, and we kind of moved on. But then she uncovered other evidence that confirms my hypothesis is probably true! Check out these awesome postcards!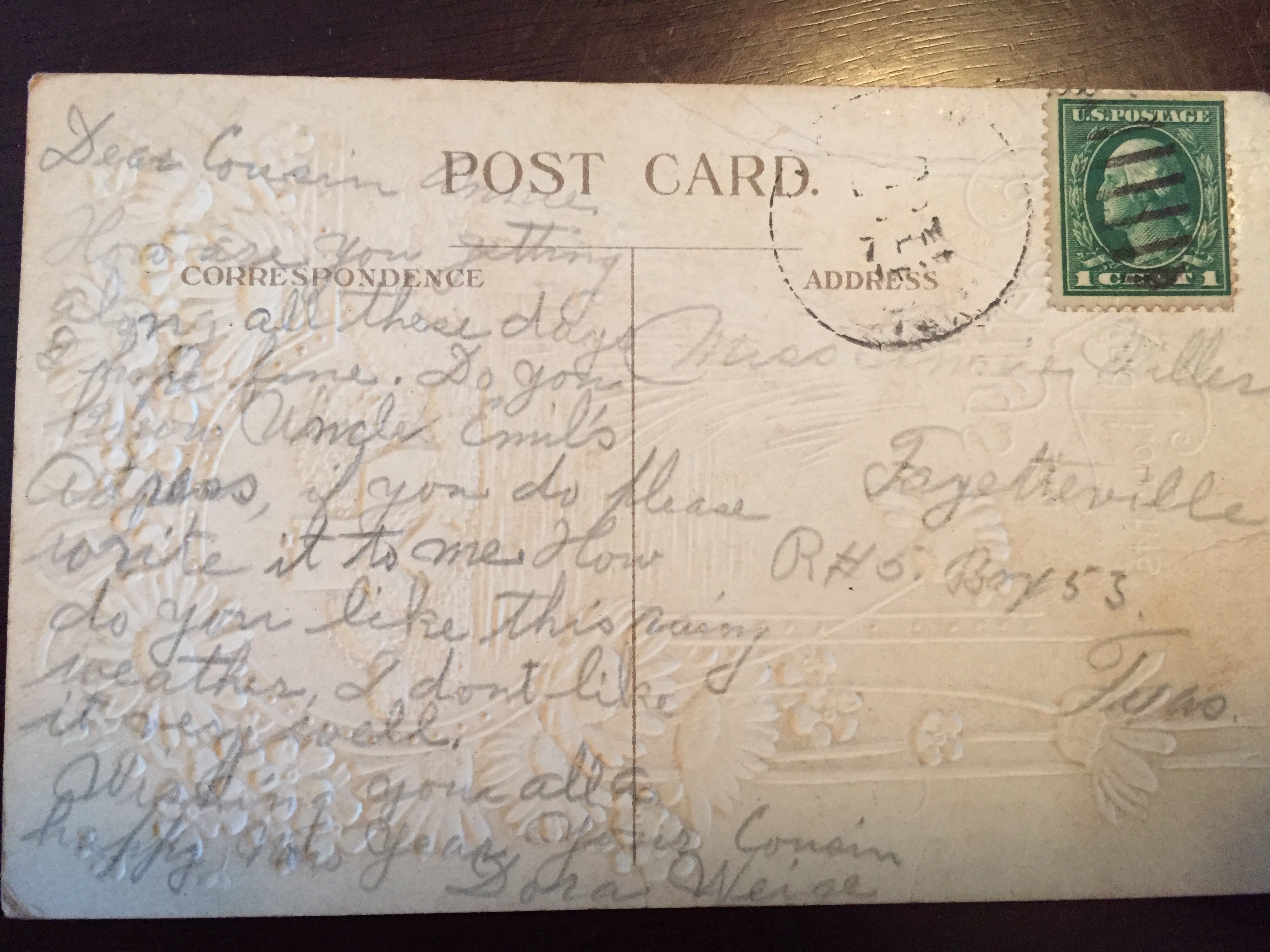 This postcard says:
"Dear cousin Annie,
How are you getting along? All these days I [?] fine.
Do you know Uncle Emil's address, if you do please write it to me.
How do you like this racing weather, I don't like it very well.
Wishing you all a happy New Year, Your Cousin
Dora Weige."
See!? These two are first cousins!

Dorothea Weige is the granddaughter of John Miller and Julia Ann Rolewitz.

And so is Annie Miller!
These families are connected.
Here is the final bit, from Louise herself!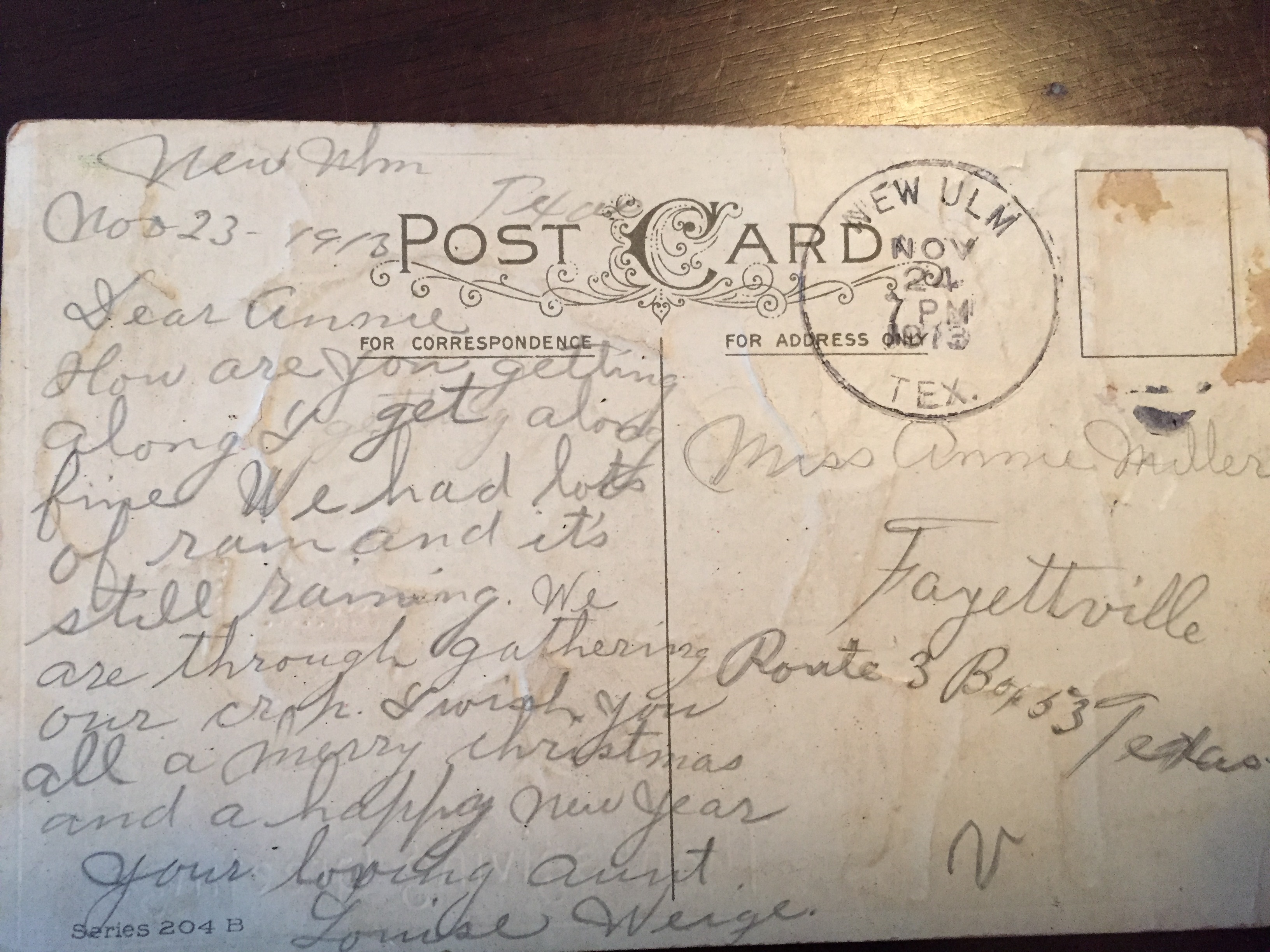 "Dear Annie,
How are you getting along. I get along fine. We had lots of rain and it's still raining.
We are through gathering our crop. I wish you a Merry Christmas and a happy New Year.
Your loving Aunt,
Louise Weige."
Note that this postcard is dated 23 November 1913, before Louisa's death in 1916.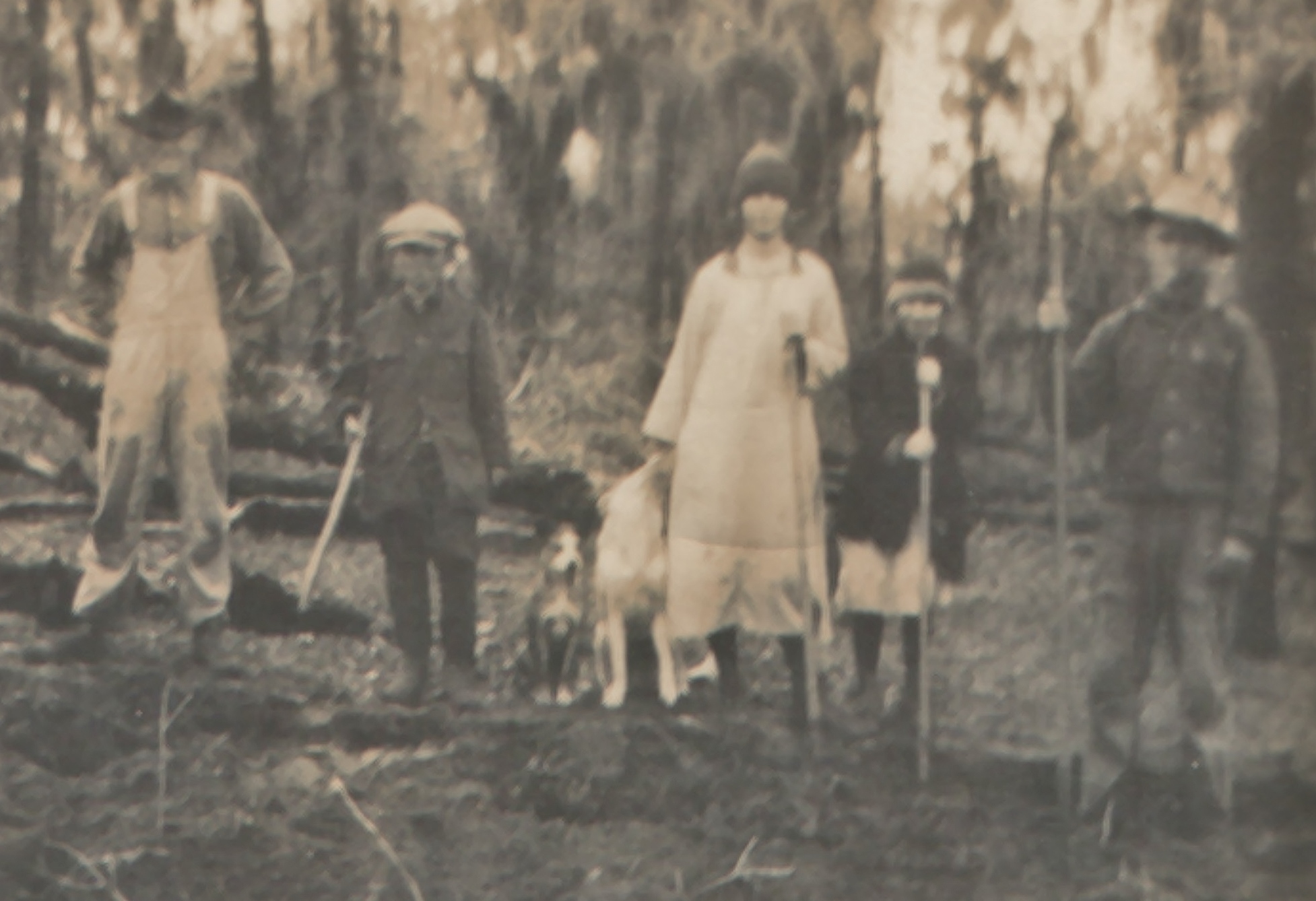 Here's the front of the postcard. The DNA match (who gave me permission to post this) wonders if Louisa might be one of the people pictured here! Perhaps the woman in the middle?
It was extremely satisfying to find that I was right. Thanks to my match's cousins for emailing me and helping me solve this!