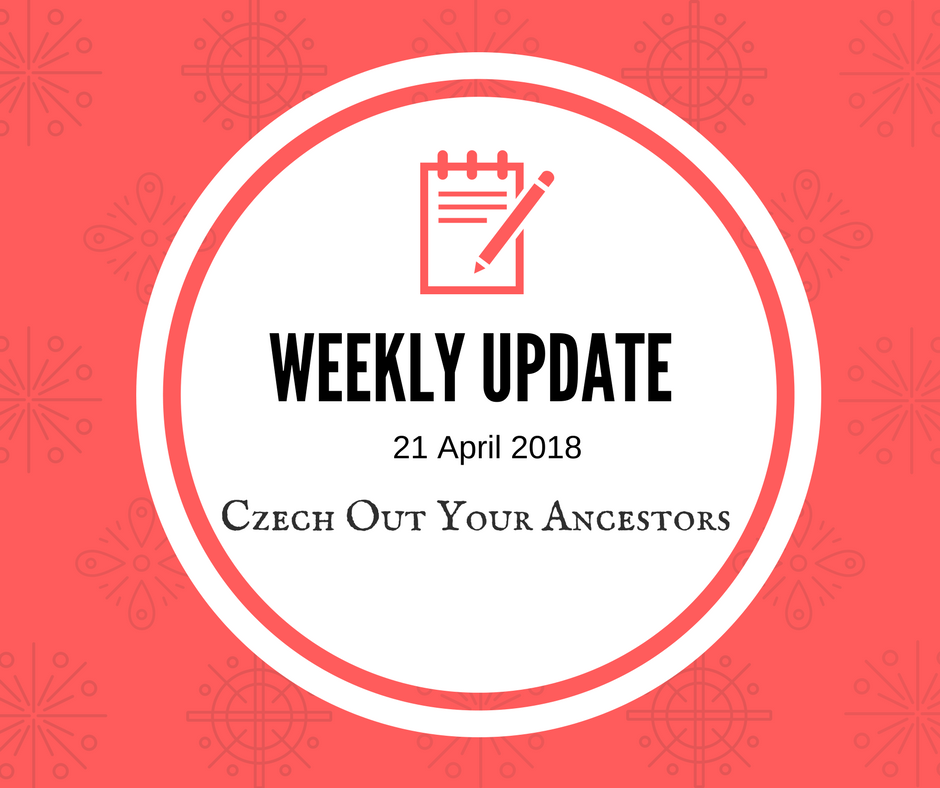 Well, I skipped last week's update because I really didn't do that much except…
I SOLVED MY FIRST EVER GENETIC GENEALOGY CASE!!! YAY!!! It was very exciting, and I hope to write lots about it. I was able to find the birth father of my second cousin once removed. It was an extremely satisfying experience.
I was able to step back a little from that project a bit this week in order to work on some other things:
Book Projects:
Narození a smrt translation – this continues on slowly but surely. I enjoy this project a lot.
"Grundbucherbuch" – Hooray! We finished chapter 3, and it was quite satisfying. Lukáš even told me "good job", which like, never happens! (just kidding…but not really…)
CGSI Projects:
CGSI Facebook Page posts – I scheduled 2-3 posts/week from now until June. Also, sales had their best month in a while, and it was mostly thanks to these posts, they think. I think we made $1k in book sales. The best part – we sold 11 copies of History of Slovaks in America, which is good because we have too much inventory of this particular book.
The Conference – I worked on my conference proposals. I have until May 25 to finish them, but that will come very quickly.
The Quarterly Program – I found two or three images for my slides. I should like, actually start putting them together eventually. But I really am excited to present in a month on the topic of Finding a Village of Origin. This is something I know something about.
The Symposium – I successfully was able to convince some friends to present about DNA. If all goes well with that, they will maybe come to the 2019 conference, too. I hope so. I invited one of them to co-present with me about how to use Czech Wikipedia. I know that sounds like a really basic, dumb topic. But actually, I think it would be super useful and interesting to hear both from an editor and a user's perspective about how this can be a tool for genealogical research. I actually use it pretty much daily.
On a different note, I'm almost tempted to edit (English) Wikipedia. But then…
But then again (4:40)…
Research Projects:
Genetic Genealogy – Earlier this week I learned that my close cousin match might possibly have a half siblings somewhere out there. So that will be interesting to try to solve.
Cousin Collaboration – I talked to my third cousin on the phone. He was very nice and interesting. It prompted me to start writing a question sheet that I can send to these distant cousins to try to gather information. I still need to do that.
Tech Projects:
A tech think that I did this week was realize that I really dislike the way that images are transferred into wordpress AND mailchimp. It's a pain in the rear end. I can't just copy and paste, I have to upload them, and if they are the wrong size, mailchimp will just say, "okay, well, I'll keep the old file AND add a new file too!" It's So. Annoying. So very, very annoying.
My husband has created a chromosome browser and haplotype-viewer for maize. It also has a two different interesting ways of viewing the parentage – hierarchical and one that looks a little more like puzzilla. His boss really loved it, so that's good. He says he could tweak it a bit and make it for people. Problem is, we don't have tons and tons of generations of humans tested. Yet. I guess in 100 years, this kind of tool would actually be useful.
Also, I was really pleasantly surprised that one of my programming ideas turns out to be "a programmer's dream." Solvable, easy, and potentially very useful. I need to come up with lots more ideas like that.
I also had this really revolutionary idea about how to connect the people who want relatives to take tests but might not know who they are with the people who can't afford to take tests. But that is an idea still in its infant state.