My fourth cousin in Trojanovice sent me a copy of a history of the town of Frenštát from 1904. I started to read it in Czech, and of course I need to share what I am learning, because it is very interesting. Here is a translation of pages 7 and 8.
———————————————————————————————–
House numbering was not done in a random way but started from an important place, such as the church, the castle, etc.
Here [in Frenštát] the numbering was done starting from the church. There were 37 houses of Měsťans (Burgers) and of them, 22 formed the core of the square, 15 others were located on the streets which were at the extensions of the square's longer sides. The current numbering was done at the beginning of the 19th century.
See
this map
but remember it is from 1835, so it is not exactly the same as what this chronicle is talking about.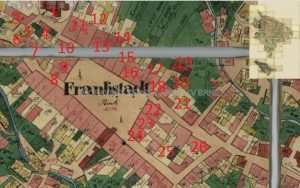 With the numbers from 1835.
In the 1676 document "Extract of a copy of the Hukvaldy official blah blah blah Cadastral blah blah thing from 1676" the names of the current šenk houses (brewery houses) were stated in this order:
Jakub Lichnovský (now at č. 15)
Lida widow of Michal Kopřiva
Zuzana widow of Chaloupka
In total there were 33, but after the fire of 1661 four of the brewery house owners were completely impoverished. Martin Kopřiva sold his field and left, Jiři Dobrozemský burned to death, Matyáš Töpfer sold his field and left to Hungary, and Jan Hunku became a beggar.
Číslování domů nebylo v
obcích nahodile voleno
, ale
vycházelo
z místa
význačného
, od kostela, zámku a p.
U nás číslováno bylo od kostela. Měšťanských domů je 37 a z těch 22
tvoří jádro
náměstí, 15
nalézá
se v ulicích, které jsou
prodloužené
delší strany jeho. Nynější číslování
provedeno
na počátku 19. století.
V listině z r. 1676. "Extraktus aus dem in copia adimata bei der hochfürstlichen Ober-Amts-Kanylei der Herrschaft Hochwald befündlichen Catastro de Anno 1676.)
uvádějí
se jména majitelů skutečných šenkovních domů v městečku Frenštátě (Stadtl Frankstadtl) v tomto pořadu:
Jakub Lichnovský (nyni č. 15), Tom. Bartoš, Pavel Weiss, Jiřík Gach, Tom. Tučný, Lida vdova Kopřivová (po Michalu), Jan Melichar, Mikuláš Kostelník, Martin Polach, Zuzana vdova Chaloupková, Kašpar Mechl, Jan Petrů, Jan Parma, Pavel Slanina, Jiřík Ondráška, Jan Michna, Jan Mikulášek, Jiří Michna, Václav Michna, Jakub Vavřinův, Jan Vašica, Jiří Pauček, Jan Dřevěný, Martin Reček, Tomáš Lichnovský, Tomáš Drechsler, Jiřík Kaluža, Pavel Kopřiva, Jan Hilšer. Úhrnem 33, neboť při požáru v r. 1661. majitelé čtyř ostatních domů šenkovních byli úplně ochuzeni. Martin Kopřiva
prodal pole
a odešel, Jiří Dobrozemský
uhořel
, Matyáš Töpfer pole prodal a odešel do Uher, Jan Hunka chodil žebrotou.