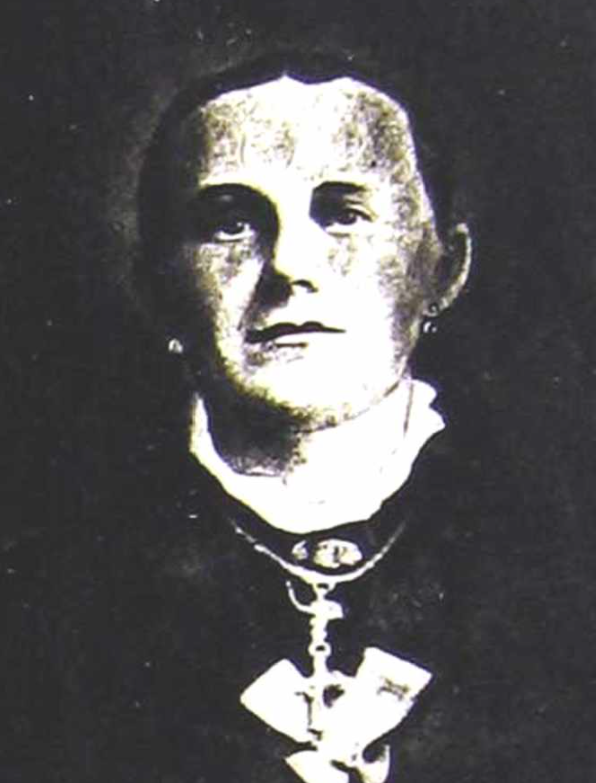 This is my third great aunt, Františka Vašíčková.
Františka Vašíčková was born 9 March 1859 at Vratimov. She married František Karel Naiser on 27 August 1878. Together they had the following children:

i Anastasia Naiser
ii Richard Raymond Naiser
iii Charles John Naiser
iv Frances Naiser
v Elizabeth Naiser
vi Hermina Naiser

František Karel Naiser died in 1890. Františka remarried John Pokluda on 20 October 1891.

The mystery is: who is John Pokluda?

There is a note in a transcription of a marriage record from Ammannsville that says John Pokluda was from "Stary Hanice". Could this actually be Stará Staříče?

The 1900 census says the family is living in Holman, Texas. John emigrated in 1890 and has been married to Frances for 8 years. This census says Frances is the mother of 8 children, 6 of whom are still living. It also notes that she emigrated in 1881 and is older than John.
I think that this is them on the 1910 census, but there's some information that doesn't quite match perfectly (like it says that he immigrated in 1880). And who is this private family nurse named Mrs. Rosalia Brooč (could it be Brož? Brosch?) who is living with them? Before she was the mother of 8 children, 6 of whom were still living. Now she is the mother of 6 children, 5 of whom are still living. Hmm.
Františka died on 30 June 1910, and there are a lot of interesting, extremely important information on this record.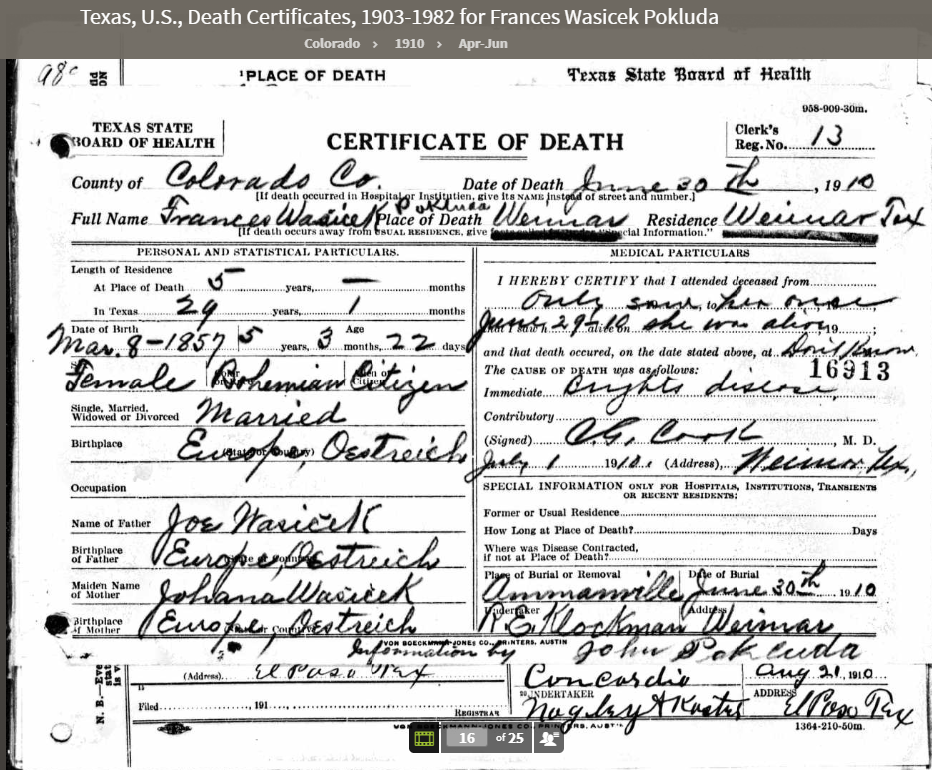 This clears up any discrepancies about the residency; here she is living in Weimar, Colorado County (just like in the 1910 census), and it says she has been living there for 5 years (so she was likely living elsewhere, such as Holman, before). She was born 8 March 1857 in "Europe, Oestreich" to Joe Vašíček and Johana Vašíček (which is totally false; she was born to Jan Vašíček and Mariana Brožová) – people who Jan Pokluda would probably have never met, although SPOILER ALERT he did return back to Moravia to visit (which ended up being the key to solving this village of origin, actually!).
The informant on this death cert is John Pokluda, and she seems to have died of Bright's Disease, which, from what I can understand, is some kind of complication with diabetes that was really uncomfortable.
John Pokluda declared his intent to naturalize on 30 November 1892, stating that he emigrated on 23 November 1890 arriving at the port of New York. This matches the 1900 census data perfectly.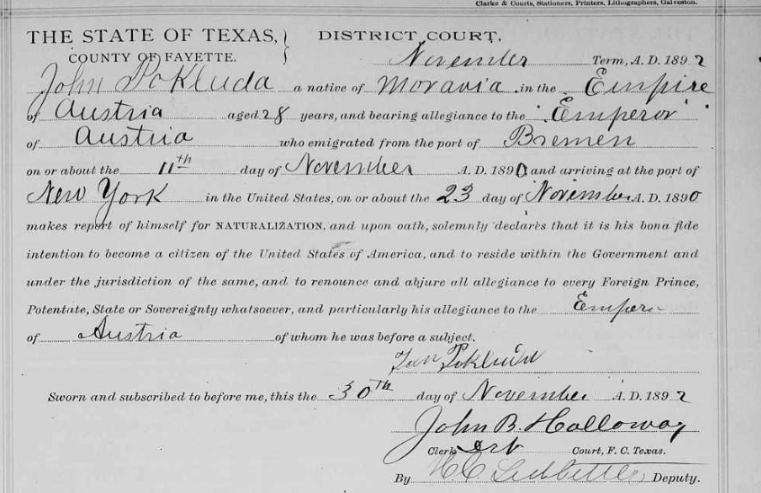 This would make his arrival on 2 December 1890 at New York very likely.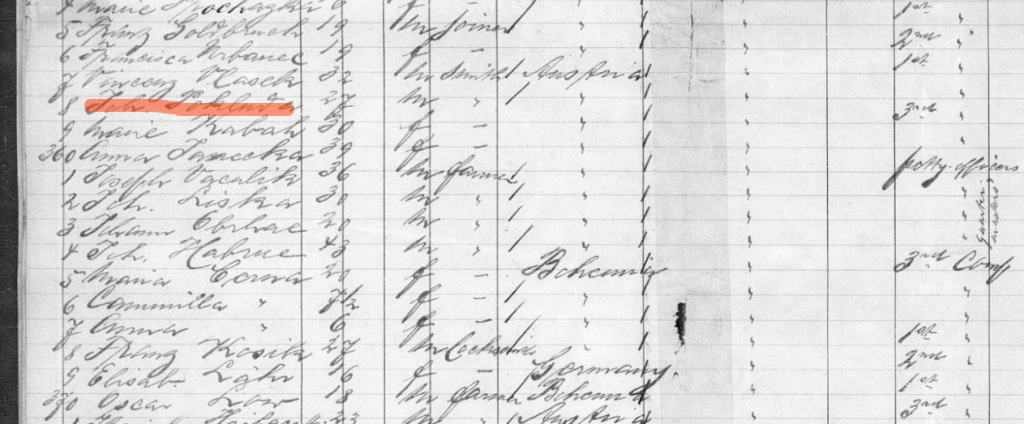 This record says that he was 27 years old (born approximately 1863 or 1864), from Austria, a "smith". Others around him on the passenger list from Austria are: Vincenz Vlasek, Marie Kabah, Anna Janecka, Joseph Vachlik, Joh Liska, Johann Obrlac?, Joh. Habrne. These names sound Czech but… I don't know any of them.
Because I was already looking at passenger lists, I happened to find another one that was really intriguing: a Bremen to New York passenger list on the SS Koln sailing from Bremen on 20 May 1909, arriving in Galveston on 13 June 1909 (second page) with a John Pokluda born 1865 (age 44), male, married, can read and write, from Austria Moravia, Bohemian, last permanent residence Baska, Moravia (which is crossed out and overwritten with US Texas). His nearest relative is his brother Frant Pokluda from Baska Moravia. He is going to Weimar County, Texas. He is paying for the trip himself but does not have a ticket to the final destination. He has ten dollars, he has been to the US twice: once in 1890, once in 1908, (or maybe this means he was there from 1890 to 1908) in Weimar, Texas. His relative who he will join in Texas is Františka Pokluda in Weimar, Texas. He is 5 ft 6 inches, fair, blond haired, green eyes, has no scars, is from Moravia, from "Skaric".


And here is where I made an idiotic mistake.
It can happen to anyone, but I felt really, really dumb about it.
At this point, I had two pieces of evidence suggesting that the village of origin could have been Stará Staříč. "Stary Hanice" does not exist, and neither does "Skaric", but Staříč is a place that is really close to where Františka was from. So, I just jumped the pond and checked…
And when I found a match, I jumped to conclusions and assumed that the first one I found was the right one.
Jan could have been born 21 August 1864 in Stará Staříč 43 to Thomas Pokluda, Hausler in Stará Staříč, son of Barbora, daughter of Franz Pokluda, Hausler in Stará Staříč and his wife Mariana born Brož, Hausler of Stará Staříč, and mother Mariana daughter of Josef Kania, Hausler in Stará Staříč and his wife Mariana born Melichor Filipp Hausler of Stará Staříč. 

So let us just back track a second.
What do we already know:
Jan Pokluda originally emigrated in 1890
He married Františka in 1891, and a transcription of a note of the parish register from Texas says he was from "Stary Hanice"
Františka died in 1910 in Weimar, where she had only been living for 5 years
A person named Jan Pokluda who was married to Františka and lived in Weimar, Texas ca 1909, who had been residing in the USA from 1890-1908, and who had a brother named Frant[išek] who lived in Baška, and who was from "Skaric", returned to Moravia in 1909
I felt very convinced that this Jan Pokluda who returned was one and the same as my Jan Pokluda married to Františka, but in order to make sure I had solved it, I would need to find a Jan Pokluda born in Staříč with a brother named František who had moved to Baška.
Baška. Where the heck is Baška? Mapy, can you help?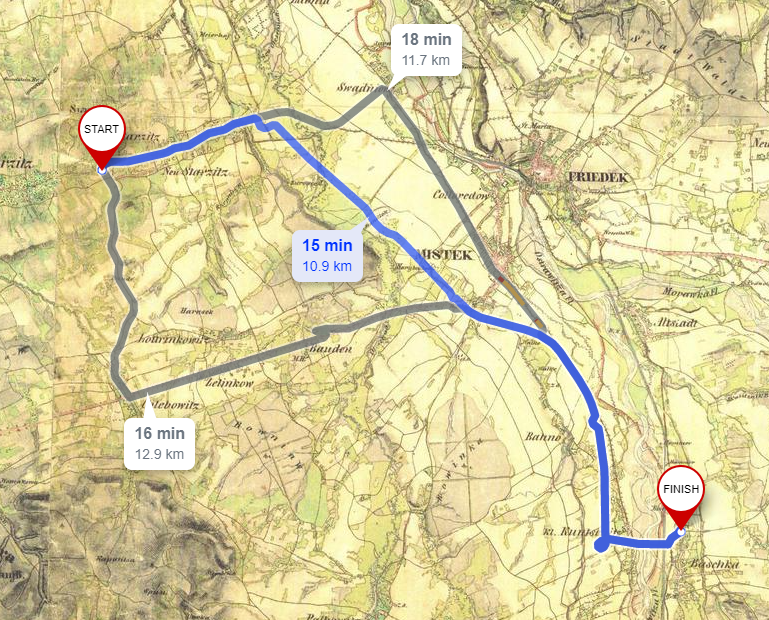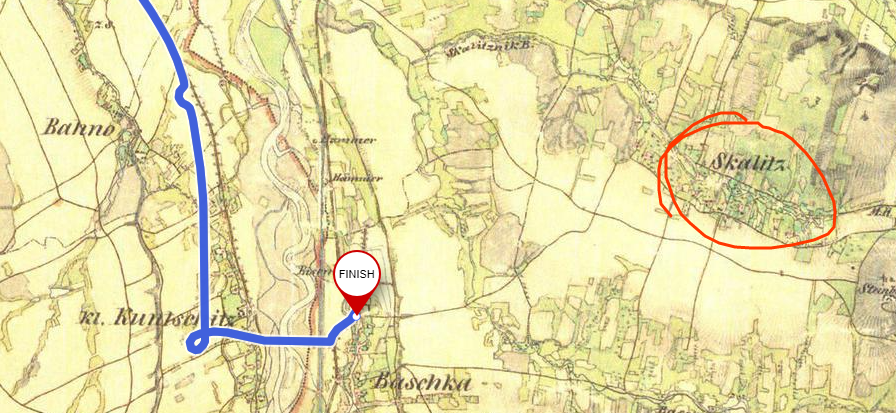 I figured that the most likely way a person from Stará Stařič would be living in Baška would be if he married someone from there. And since usually marriages are in the parish of origin of the bride, not the groom, I started looking for a marriage for a František Pokluda in Baška…

Along the way I discovered that Hodoňovice and Baška were somehow connected? Or maybe the same place? Today they are the same place… I ended up looking there for some reason…
And found this:

Which means that the Jan Pokluda who married my Františka was not from Stará Staříč 43, but Stará Stařič 126.
Case closed! My Jan Pokluda was indeed from Stará Stařič, and he returned to Moravia the year before his wife died. At that time, his closest living relative was his brother in Baška. How amazing that he was able to go back and visit his family. How terribly sad that his wife did not, even though the journey would have been excruciatingly difficult.
What I would give to find the letters these families must have written to one another. They would have stayed in correspondence, since Jan returned.
Moral of the story: do not jump to conclusions. The first person you find with the right name, date, and place may not be the right one. You have to look at all the options and weigh all the other identifying features in order to determine an identity. This will save you a lot of time!
There are still lots of mysteries about Jan Pokluda. For example, did he end up on the poor farm in La Grange? Was he the one who committed suicide by gunshot ca 1930? Or was that someone else? How will I figure that one out…