Sometimes it's like there's this little insect that bites me, or I take one tiny drink from some tempting elixir. Either way, something like that happened and I've been obsessing about Anna Svoboda for the past few days.
Most of this email is built on the bones of an email to the very nice people in the Hostyn/Plum Catholic Parish. They emailed me back a response immediately to my more general query, asking for details. So here are the details, in blog form.
Anna Svoboda's oldest daughter was Anna Svoboda/Macha. She was born illegitimate in May 1863.

In 1883 she married Josef Ripper. They went on to live in Colorado County.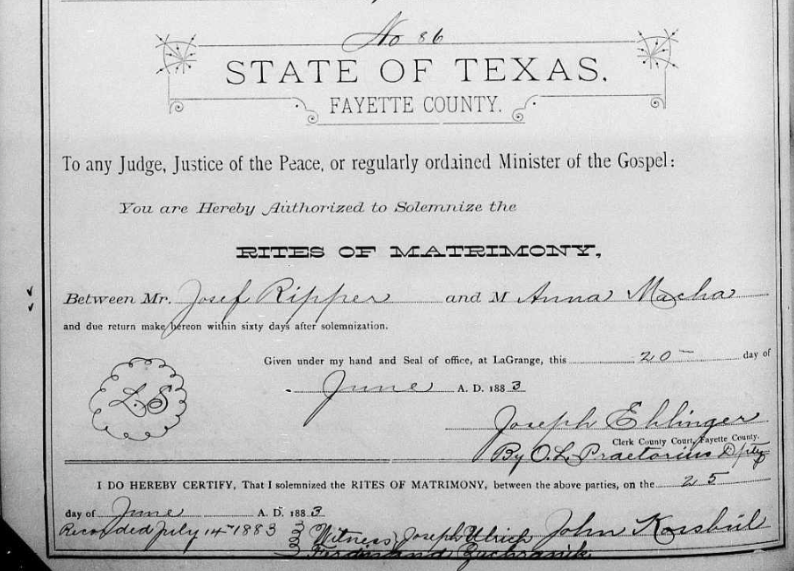 Anna Svoboda married Josef Macha in October of 1863 in Trojanovice. 

There are two Macha children who I can't find any information about in the United States at all. Josef Macha born 1864 and Agnes Macha born 1866.


At some point between 1866 and 1869, Josef and Anna (or just Anna?) emigrate. I looked, but did not find, the passport application for Anna Macha, but I only looked from years 1867-1872. Weirdly, I also cannot find a death record for Josef in either Frenštát or Trojanovice – which is why I think he might have emigrated. This family is no longer in Trojanovice 58 during the 1869 census (but some of his siblings, I think, are).
Also, for some reason Trojanovice 58 gets transferred to Anna in August 1869, which suggests that by that time Josef had probably died.

I kind of think that Josef and Anna started to emigrate and he died on the way over here. This is why:
At some point between 1869 and 1871, Anna Svoboda Macha married someone named Henry or Herman Heine. The reason we know this is for two reasons: on the 1880 census she is married to Joseph Kubesch (who she married in 1878 in Fayette County) and there are the following children living there: Anna "Henie" (this is really Anna Svoboda/Macha, born in Austria ~1864), Mary Henie (born ~1868), Paul Henie (born ~1871), Franzka Henie (born ~1872), Emma Henie (born ~1873), and Herman Henie (born ~1876), all of them stepchildren, along with their sons Emil Kubesch (born 1878) and Joseph Kubesch (born 1880).


My ancestor is William Kubesch, born 1882. I have only been able to trace Paul, "Franzka", and Emma – these all have death certificates that list their parents as "Henry/Herman Heine" and "Anna Svoboda/Macha." 

Paul's death cert says he was born on 29 June 1871 in Ammansville, Fayette, Texas to Henry Heine and "Annie (don't know)". He ended up in Nada, Colorado, Texas.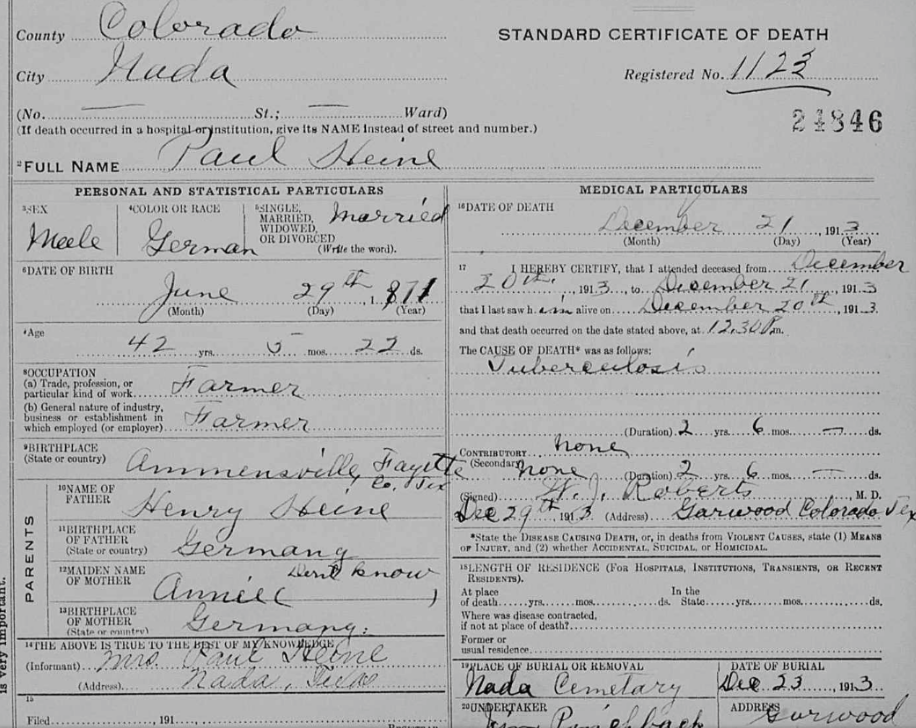 Frances's death cert says she was born 18 October 1872 in Fayette County, Texas to "Unknown Heine" and "Annie Heine". She ended up in El Campo, Wharton, Texas (which is where the rest of my Texas Czechs went).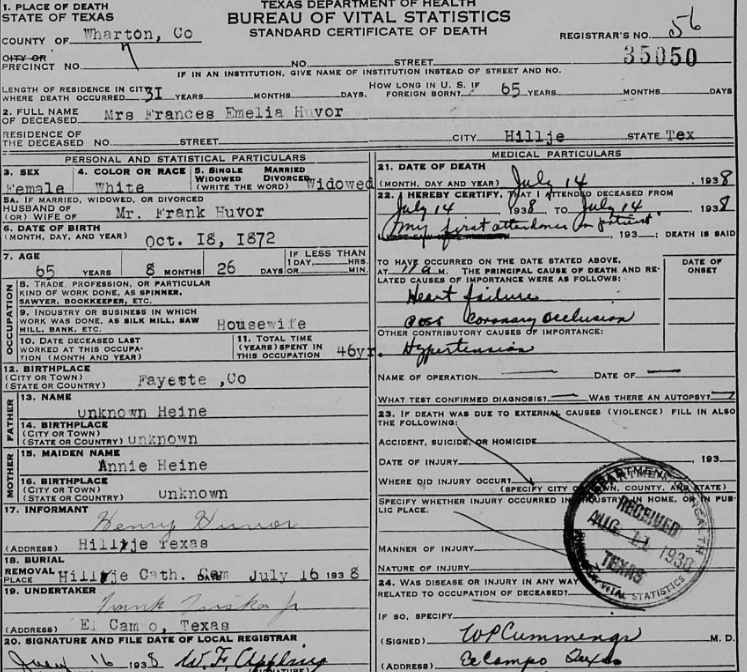 Emma's death cert says she was born 23 April 1874 in Dubina, Texas to "Herman Heine" and Anna Svoboda.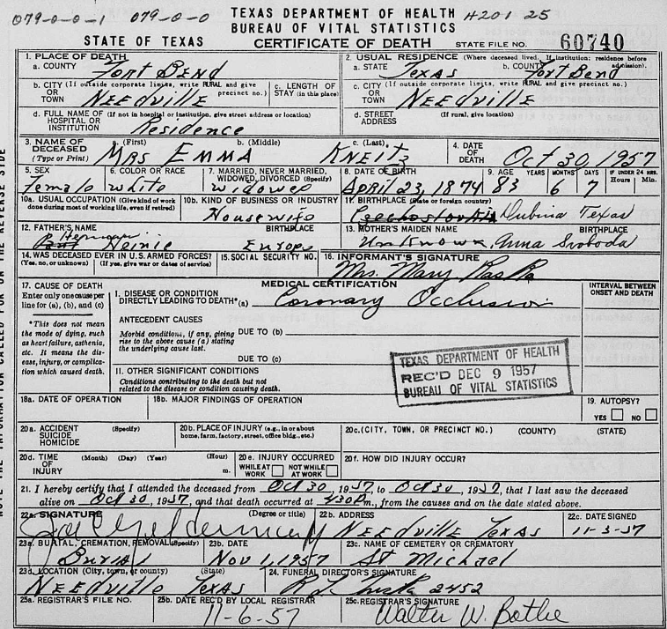 I can't find anything at all about the children Mary Heine or Herman Heine so far.
Other places I've started looking: probate records, court records, immigration records, even the 1876 scholastic census of Fayette County had nothing. It is so frustrating. I have not yet done an exhaustive search of deed and tax records. FamilySearch was kinda on the fritz both yesterday and today; maybe they will resolve the issues soon so I can keep searching.
I really want to look into the Catholic church records in Bluff because I noticed that in 1870 in that vicinity, there is a Henry Heine from Hanover listed as married to an Anna from Austria, with two children Mary (age 3 born in Hanover) and Joseph (age 1 month, born at sea). I am really unsure if this is the same family here.

The other immigrants from Trojanovice and Frenštát who had already arrived by this time were the Petr family, Adamčík family, and Janda family, to name a few… but the Adamčíks were the Macha's 7 doors down neighbors. They surely knew each other. All of these people are related to me. They also all came in the 1856-1861 wave of emigration. During the civil war, Czech immigration completely stopped. It didn't start up again until 1867.
So basically, I am hoping to find anything at all about any of these people in the church records, especially including any margin notes – regardless of whether or not they are in English. I am especially interested in finding out more about this mysterious Heine person. I would really love to find a marriage record for Henry/Herman Heine and Anna Svoboda/Macha ca 1870, but Father Chromčík, the first Czech priest in the area, did not arrive until 1873ish; I'm not sure that the parish records even go back before then. I am also not sure if looking in the Bluff/Hostyn registers (if they exist?) is the right place to look. Maybe I should look in Dubina/Ammansville?
What I really need to do is learn more about the records kept during this time in this place.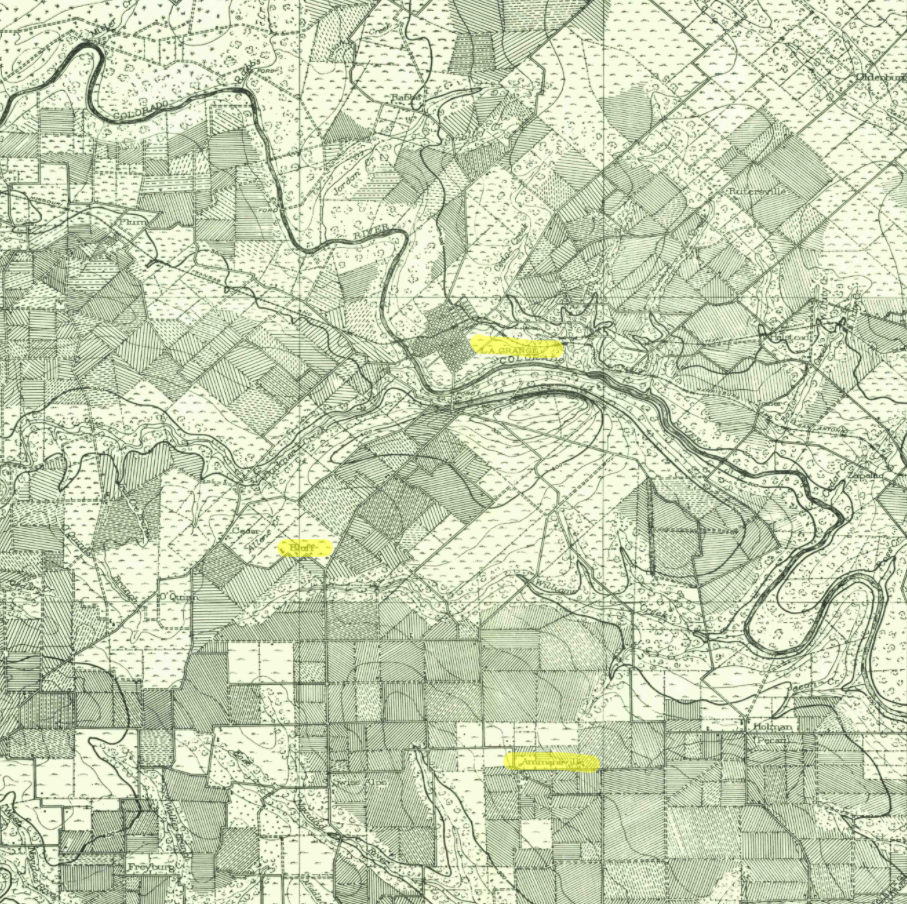 The other thing I am really anxious to learn is Josef Kubesch's village of origin. He's Czech, but he's not from Frenštát or Trojanovice. I am positive the most likely place to find a clue to his village of origin is in the parish registers in Texas, but I am not positive they are in the Hostyn parish. I am sure that along with the civil marriage record in 1878, there also must exist a church marriage record somewhere.
The translated version of A History of the Czech-Moravian Catholic communities of Texas by V. A Svrček that I own discussed some of these places in detail, as does Fayette County: Her History And Her People by F. Lotto.
Sometimes I think that 90% of genealogy is learning about the place, and only 10% is searching for the records themselves.