I certainly hope there will be a "Part Two" because a village of origin post in which I don't solve the guy's village of origin is a little bit, well, lame.
But the journey is really fun, and that's what I want to write about today.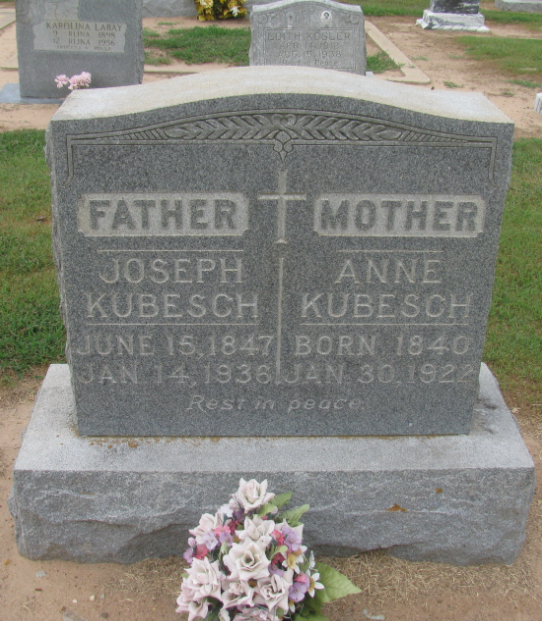 Right now I am looking at the villages of origin for this branch of my family related to Louise Šumbera, my third great aunt.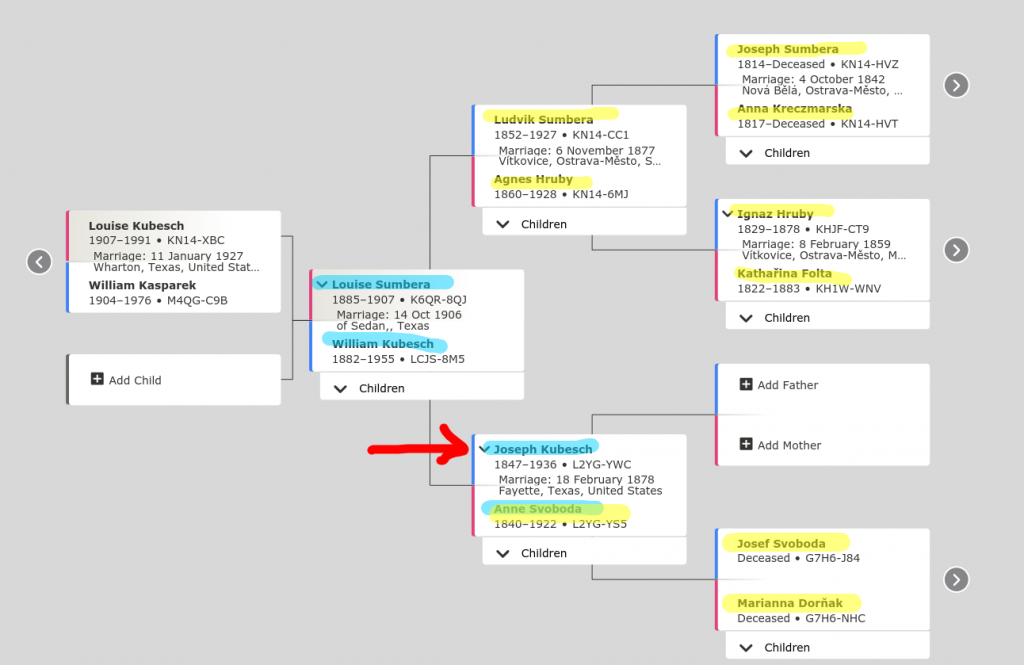 I did the usual things to try to find Joe Kubesch's village of origin: I started in the US records. I found him in the 1880, 1900, 1910, and 1920 census (he should also be in the 1930 census, but I have not found him there yet!). Weirdly, in the 1910 census he is listed as a German from Germany.

Oh yeah, by the way, Joe is living next door to D Lutringer and family. Their daughter Lena Lutringer later goes on to marry Joe and Anna's son, Willie Kubesch.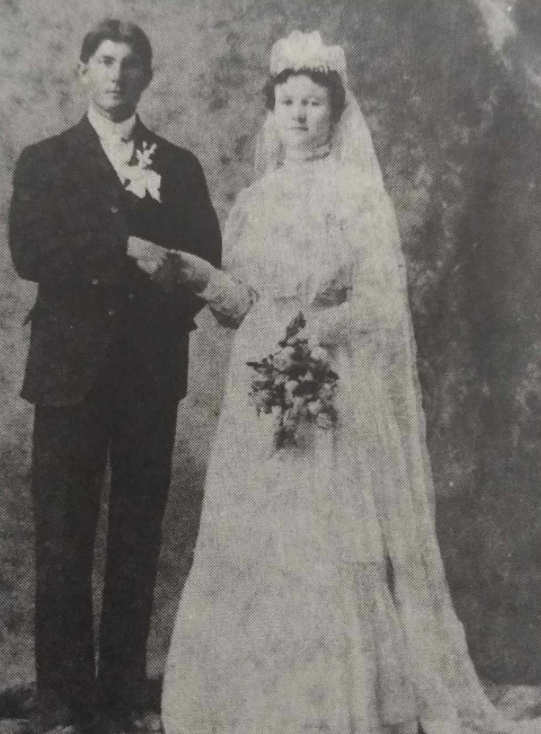 William Kubesch had three wives, and his mother Anna Svoboda had three different husbands. I was able to confirm this today by going to the Family History Center to look at some naturalization records. I am the stake temple and family history consultant in charge of the Des Moines Family History Center, so they have asked me to go there once a month to dust off the computers.
The computers didn't really need dusting because the missionaries were there working on social media referrals, setting up zoom/facebook messenger appointments, and calling all the less active members in the area. They are really good missionaries and stayed really far away from me while I was there. Both the elders and the sisters were there.
In some ways, it would totally suck to be a missionary right now. But I suppose that they didn't sign up for a specific program – they signed up to do whatever work they were assigned to do. They had a lot of success making appointments, from what I heard. Poor guys, though. They literally are not allowed to teach people in person.
The naturalization records I needed were not available outside of the FHC.
What I really wanted to find was Josef Kubesch's naturalization papers. 1880, 1900, 1910, and 1920 censuses all agree that he came in 1874. He probably applied for naturalization sometime after 1900 and received it sometime before 1910. "Al" in the census means "alien", "Pa" means you submitted your first papers, "Na" means you're a naturalized citizen.
Between 1880 and 1900, Joe Kubesch and family moved away from Dubina, Fayette County, Texas, to Taiton, Wharton County, Texas. Wharton County is where all my Czechs ended up, in a nice little town called El Campo.

Unfortunately, the name Josef Kubesch is not unique among Texas Czechs. Fortunately, it's not something like Vacek. Ugh.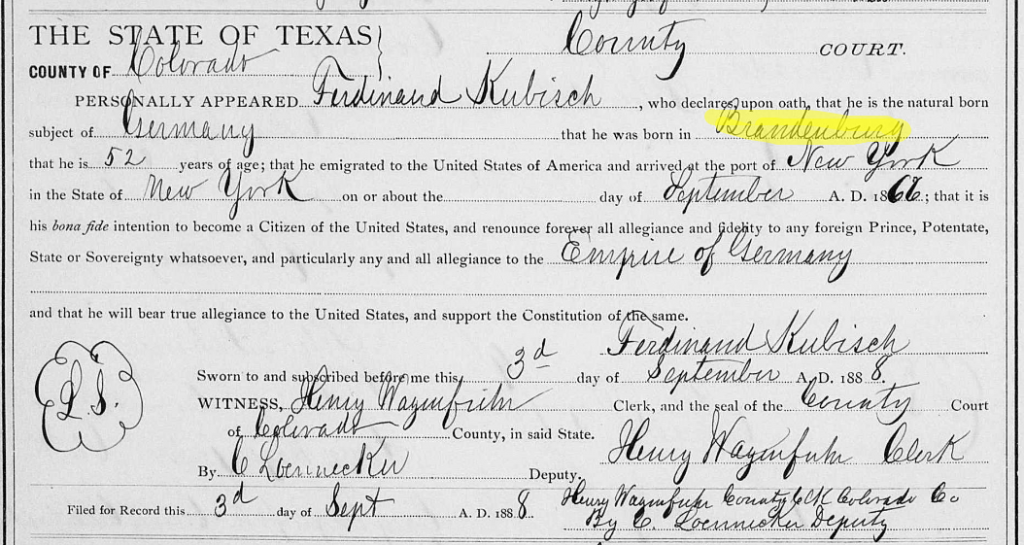 Anna left behind a will. It was mostly useless for genealogy. It basically said that she was married to Joe Kubesch. Nothing about her children.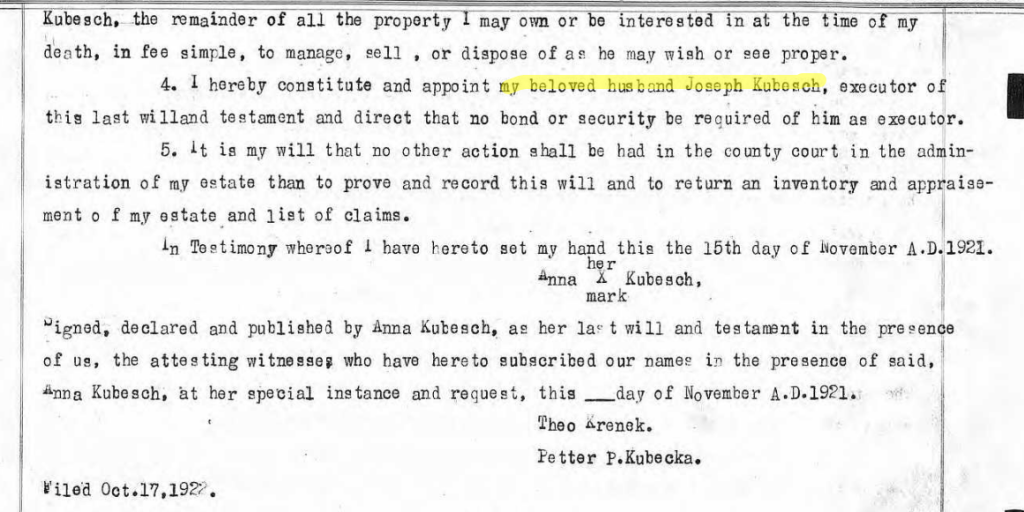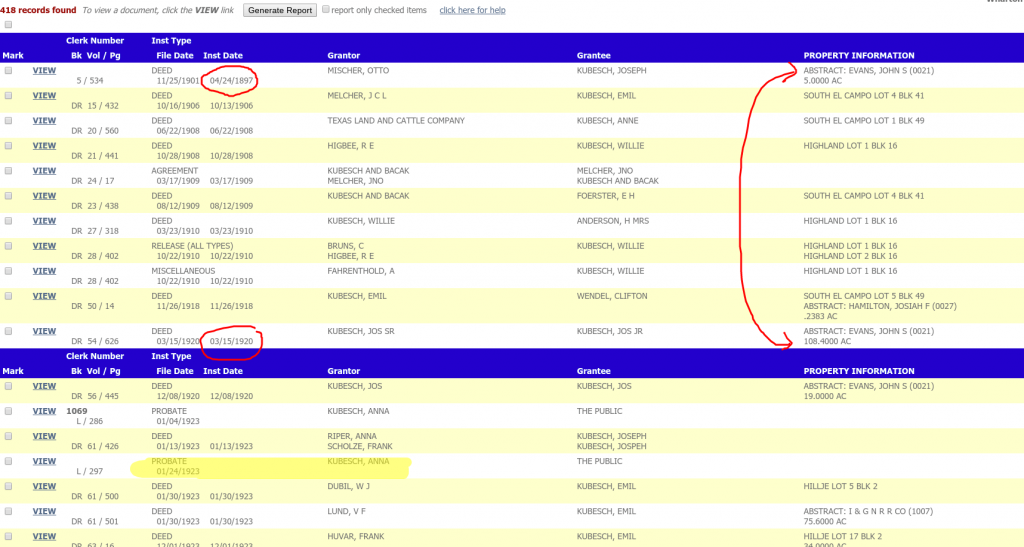 I was really not sure where to look for Joe's village of origin. His children's death records were really useless and sad. The only thing that could have made them a bit sadder was if the cause of death had been more morbid or terrible. I recently found a 24 year old woman who died from "anemia" after attempting suicide by slitting her throat. In my opinion, that is a bit sadder than any useful memories about parents in the old country surviving to the next generation. Maybe it's just sad in a totally different kind of way, though, because it really, truly is heartbreaking. And a big reason why I love solving these village of origin problems.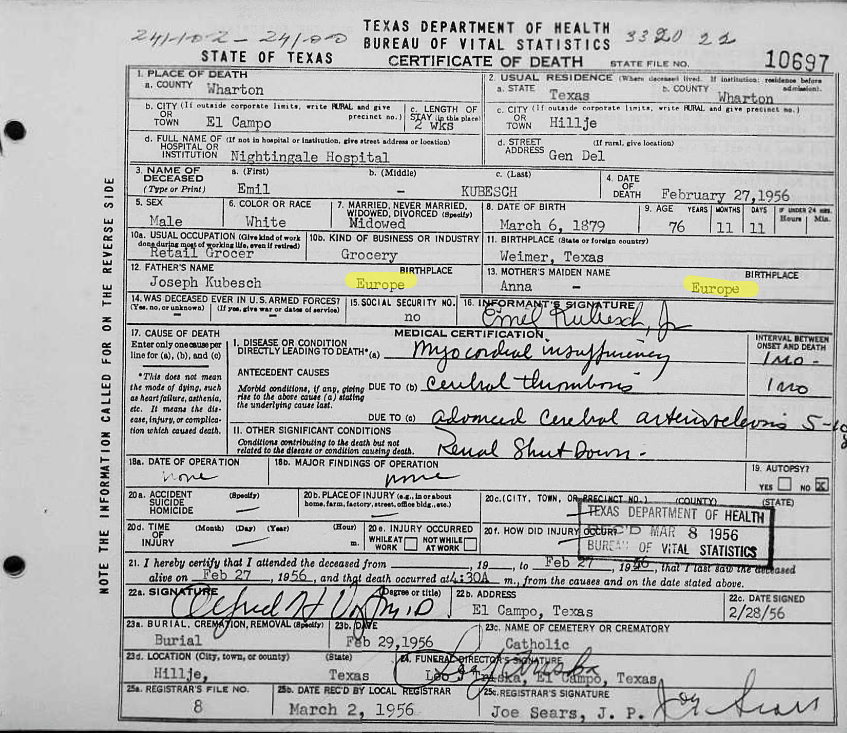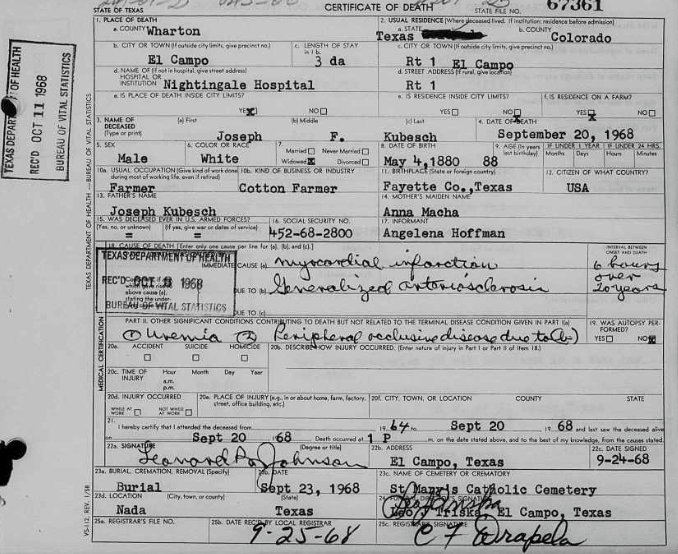 While explaining how silly and useless these records were to my friend, I realized that I should look for his death certificate. I did, and it seemed like it would be very promising!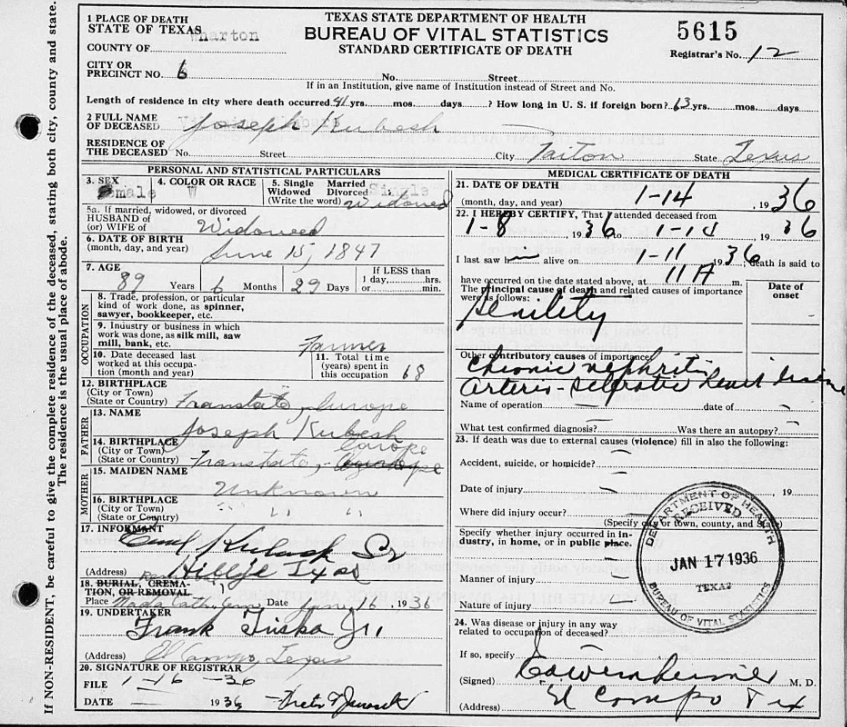 Look, village of origin is right there, right? Solved, right? Wrong. No Kubesch/Kubeš/Kuboš/Kub* family even lived in Frenštát, except for Kubíček, which is not the same. Hmm. So how did he end up with Frenštát as his village of origin here?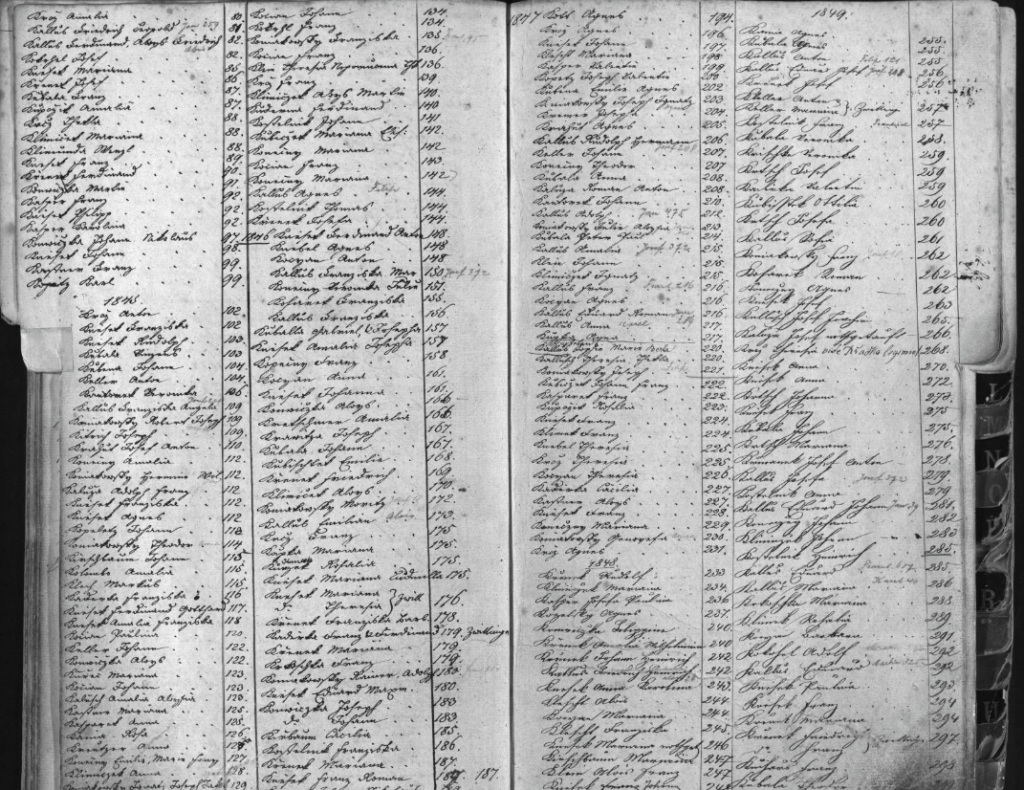 It is from Anna's first husband, Josef Macha, who was from Frenštát. Anna herself was from Trojanovice.

At some point before 1871 Josef Macha dies and Anna emigrates to America with her daughter Anna. Or maybe this happens in the reverse order? I might look for Josef Macha's passport application tomorrow. I had no luck finding Josef Kubeš's, and I know a lot more about his emigration than Josef Macha's, so, that looks like it might not be a very successful path.
Then, sometime before 1871 Anna marries Heinrich Heine, who seems to be a poor farm laborer. I know something about this family already; Louise's older sister Anna, my second great grandma, totally got pregnant by a poor Czech farm laborer Bedřich Michna. Theirs was a shotgun wedding. He was not from the same class as her family. Could this just be the same story playing out again, but with her sister and a German?
It's rather weird that she married Heinrich Heine. This is not the pattern that most Czechs in this area at this time followed. They tended to stick together with other Czechs, and though many of the Frenštáters could speak German, they were not German. I know the lines between the two are a bit fuzzy, but, well, not so fuzzy in this area. There were "German" towns and "Czech" towns, and they met and mingled and sometimes intermarried, but for the most part stuck by linguistic lines. Like, it's a little bit weird already that there's this girl from Velké Kunčice (her parents were from Velké Kunčice Estate, I mean) marrying this guy from Hukvaldy Estate. It's obviously not impossible, or unheard of, but it is a little bit like, "Oh, what happened here? This doesn't follow the typical pattern." Just a little bit.
Like, the guys from Velké Kunčice were totally Silesians, and the guys from Frenštát were totally Wallachians. I know there's a lot of overlap, but it is interesting that there isn't usually more overlap, and it makes me wonder.
Yeah, yeah, yeah, love is blind, pregnancies happen, etc.
Anna gave birth to Heinrich Heine's first child in 1871, Paul Heine. They had 3 kids, then he died before she married Josef Kubesch in 1878. I wish Texas marriage records started earlier! I should probably ask some really nice Catholic priest down in Wharton county if they can please look at the church records there; that's the most likely place for a village of origin to be, honestly. You always get mixed results when doing this, though. Some places are really closed, others are extremely open and friendly. Hmm.
Anyway, it's getting late and I need to wrap up. I found Heinrich Heine's naturalization records. He was from a place in Germany called Hesse-Kassel, which seems to be a territory in Prussia rather than a village. He came much earlier than the Czechs, in 1852.
I found Desiderius Lutringer's naturalization records. He was from "Wisler"? in Alsace, France.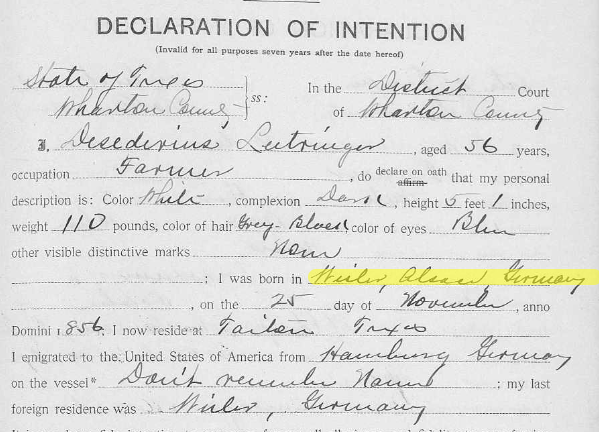 So I'm still looking for Josef Kubesch. But I have a few good leads.
The Kubesch family seem to be all over the Colorado County newspapers, though probably mostly my Joe's children.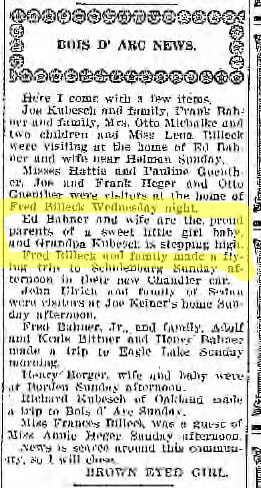 I will keep looking.