Memories of 1856
Written by F. Marák
Originally Published in Czech 7 October 1951 in Věstník
Continued from part one.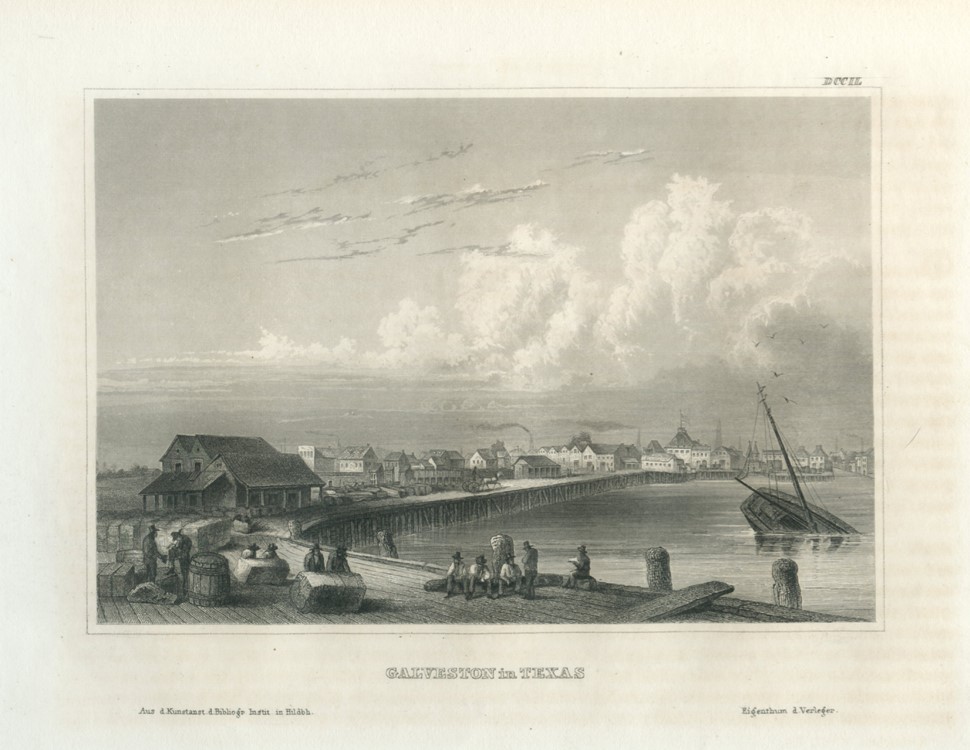 At first, I didn't do anything about it except laugh, but as every corner was "full", the laughter left me. Regardless of whether I wanted to or not, I had to carry the chamber pot up a ladder [to the trapdoor above] that was [as narrow] as a chimney sweep squeezing up a chimney. The boat rocked and I had to carry the "treasures" up. Even though we were in "first class" they did not deem it necessary to hire any additional servants for us. I must admit that I myself fell off the ladder once, but I cannot describe here how I looked afterwards – one doesn't have to be a genius to figure that out.

I endured the first [class] cabin for fourteen days and it cost me $30 American dollars in gold [Austrian currency]. Mr. Klimíček fled from out of that hellhole that reeked of sulphur after five days. It was more cheerful for us between decks and in eleven weeks we had gone from Bremen to Galveston.

From Galveston to Houston we sailed by steamboat. From Houston onwards into the state [of Texas] we went by ox-drawn wagons. The trip from Houston to Cat Spring lasted over a week. The weather was unpleasant and not only did the adults but also even the young children had to get off the wagons and walk by foot.

Yet again there was moaning and wailing, which of course had already begun in Galveston. We met two countrymen there, one of whom was named, as we later learned, Švadleňák. I read his letters from America when I was still in Moravia.

The second morning we were in Houston. We walked to town to buy something American. Breakfast was satisfactory but of course [made] according to the local custom. We ate breakfast in a small grocery store, or as it is said here, a grocer's. Meanwhile I saw in the middle of the room big basins full of corn meal. I reached in and took a handful and examined it, and while doing so said to Kalik, "Just look! Here's another advantage [this place] has over Moravia – they even mill the corn for the pigs."

I was also saying what I was thinking, since the flour was very dirty.
"Go -" I encouraged Kalik, "ask why they keep such a large quantity of [corn] meal here." He obeyed me and here we got the explanation that the flour was for sale and that people made bread out of it. With the dawning of that realization, we felt more at home.

We went back to our families.

From a distance we saw everyone in one little group and when we walked closer we heard whimpering and wailing. Standing in the middle was this shrew who was telling our women what kind of problems awaited them in Texas.

One of our people asked the unknown woman why they praised Texas so much in their letters, which had described what kind of good things grew here, especially nuts. He got for an answer, "Sure, nuts grow here, but if you want to get to the kernel you have to hit the shell with a sledgehammer."

Then another man pointed out to her the report that Švadleňák wrote back to Moravia. "Švadleňák also mislead us and now he can't show his face here any longer."

But it turned out that the woman was exaggerating, because when a young countryman with two sisters joined us and she [the unknown woman] saw them, she immediately ran away. This man then explained what we should expect and how we could start out.

We bought for ourselves some supplies and mainly corn meal, because we were told that we should stock up for fourteen days because we would not come across any shops or stores sooner than that. The meal was full of corn-like fibers which felt like hair, and bits of the ear and other parts of the corn in the same [dirty] state as it was when it was growing. Some of the [other] people buying it remarked that [this lack of properly cleansing and processing the corn] was ["officially"] known as 'Texas Virus." . But it was delicious to us during our journey, and never better than in the morning, because dinner was usually too late to [take much time to] get it ready, and breakfast was always after dawn. We went to get water the first thing in the morning, during which we found that we had needlessly thrown away the evening grease drippings, because the water was already greasy enough; somewhere upstream lay the stiff remains of an ox, and elsewhere a horse or a mule. Besides this, the water was also often thickened by the mud like a rich cream. But the corn meal was cooked in it. Anyone can imagine how the partakers of these feasts murmured like the Israelites in the desert.

We regretted that we had abandoned [our plans] to emigrate to the North and the fault was placed mainly on the Frenštáters for misleading us and selling us out to the [emigration] agent. I also was upset, but today I admit that it was a lucky idea for us to set off to Texas.