As part of a new series for the Moravian and Silesian Genealogy Facebook Group, I will be writing periodically about noble families. Even though all my known ancestors were peasants (or Burghers), still we can learn a lot by studying the noble families who owned – and especially who oversaw the record keeping practices of the land where our ancestors lived.
I decided to start with my own family of course. My Czechs came from Vratimov and Velké Kunčice on the Velké Kunčice estate, better known as Gross Kunzendorf.
The noble owners of my ancestral estate of Gross Kunzendorf were, for a long time, the Skrbenský family, who also owned Šenov. In fact, for a long time it was one single estate.
Apparently, though, not in 1815. The way I discovered this was through this online book listing of owners of places in Moravia and Silesia written in 1815. I eventually found Gross Kunzendorf on page 123:
Besitzerin. Frau Susanna Edle von Cžabersky
Justizdr. hr. Anton Philipp in Friedek
Berwalter. hr. Wendelin Drastich.
Kontrollor. hr. Valentin Klimscha
Amtsschrebier. hr. Peter Gerlach or Herlach.
Besitzerin = female owner. The owner of this estate was Susanna her ladyship (or some other honorific – Edle is apparently something like that; knowing how nobility worked, I bet it was a really specific meaning that my translation seems to miss) of Cžabersky.
But Cžabersky or Cžaberský or Čaberský or Čabersky is nowhere to be found anywhere online. There is however a Czaderský family mentioned in the Silesian Nobility wikipedia page, as well as here, here, here, and here.
I figured out that Vratimov, my ancestral village, was bought by Pavel Czaderský in 1807 from the Skrbenský family. So, I guessed that Pavel must have died sometime between 1807-1815.
Sure enough, in Dobroslavice…

Yes! So the nobles lived, married, and died just like regular people!

Pavel Čaderský's death in DobroslaviceHe died on 29 June 1813 at age 69 of Wassersucht (dropsy). His death record describes him as owner of: "Herrschaft Dobroslawitz, Strzebowitz, Kuntschitz." Aka, he owned Dobroslavice, Třebovice (probably the one near Ostrava), and [Velké] Kunčice (also the one near Ostrava).
He was born in "Troppau" and buried in the cemetery (aka "Friedhof") of "Plesner". Does this mean Plesná, or Nová Plesná? I could not find any reference to his burial. Maybe there is a special crypt inside the church? Or was it too late for that?
So I am guessing his wife was Susanna, and she was left a widow owning his estate. This site alludes to his successor being Josef Cžaderský, their son?
This MyHeritage tree of the family (written in Polish? Were they Poles?) shows that yes, "Zuzanna" was his wife.
"Paweł Czadersky born on July 30, 1747 in a poor family of Paweł and Elżbieta, who lived in Stara Wieś, in Galicja, then in Komorowicach Polskie where his father was an organist. At first a settler in Ligota. a tenant there, a leaseholder, a leaseholder in Bielsko, then a lord at Barka, and finally a gentleman at Jawiszowice in Galicja, a man who came to a property worth 300,000 Rhine guilders, he decides to build at his own expense the church in Ligota. In 1806, he obtained the title of gentry from the Austro-Hungarian Emperor Franciszek Józef."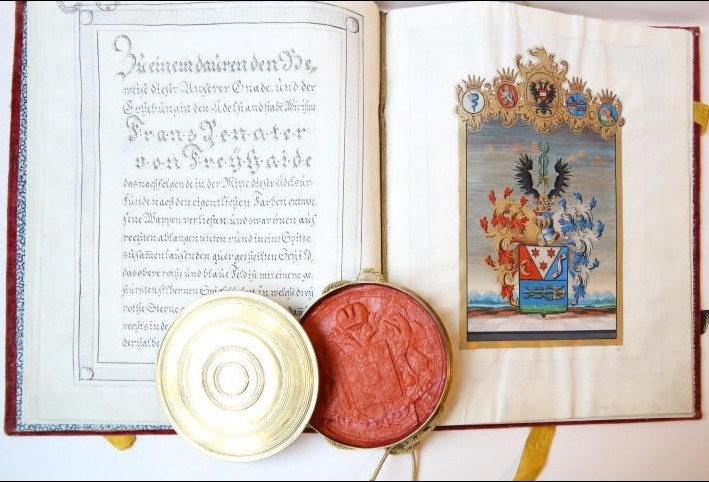 But wait…Franz Josef was definitely not the Emperor in 1806. That would be Francis II, who dissolved the Holy Roman Empire in 1806 and declared himself Francis I. Apparently this same year he granted Pavel Czaderský a nobility patent. It probably looks something like this, which apparently today sells for $2,500+ online.
Or perhaps it is more similar to this patent, which was issued in 1803. To me it looks like a velum book with a few pages, some fancy illuminated drawings, and a huge dose of pomp and circumstance to say, "You are welcome to join the club!"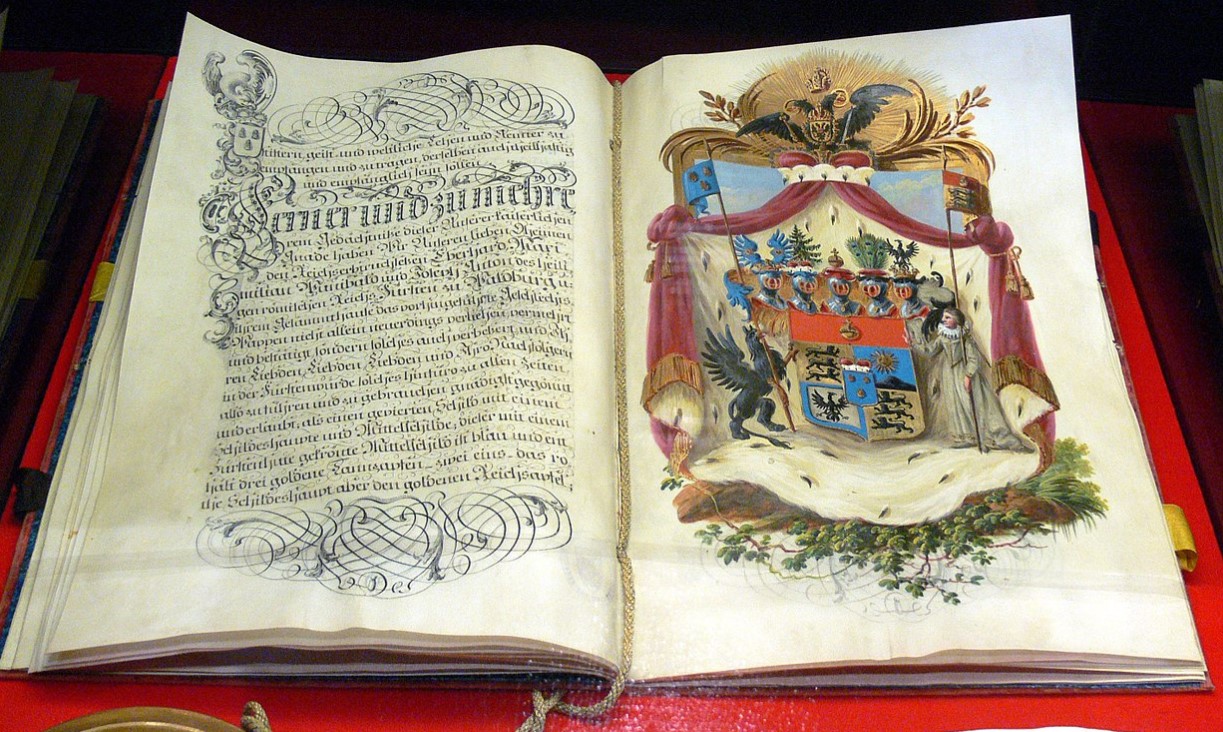 Here is an article in Polish about this guy, who recently had a large roundabout named after him. I have copied and pasted the translated text, which is mostly comprehensible.
In 1801, Paweł Czaderski, in exchange for his generosity, wished that he would celebrate a hundred holy masses a year for his family. The clergy from Ligota followed this up to 1945. Documentation of the construction of the temple funded by the landowner was discovered during the renovation of the tower. This is only part of the extraordinary history of the birth of the Ligki parish. Now, the name of its founder was to be called the largest roundabout in the district of Bielsko.

On November 24, the City Council in Czechowice-Dziedzice decided to name the roundabout in the center of Ligota. – This is the largest roundabout in the district of Bielsko, which significantly improved the traffic in our village. There are as many as five poviat streets: Bielska, Zabrzeska, Bronowska, Farmers and Wapienicka. We wanted to give it a name that will not prove controversial and which will allow residents to get to know the history of the city better – says Stanisław Słowik, the mayor of Ligota. At his request, the councilors unanimously decided that the new intersection would henceforth be Paweł Czaderski's roundabout. – Previously, the sołecka council unanimously supported this idea. This character, significant for our history, did not even have its own street yet. Many residents do not know who Paweł Chaderski was, and now have a reason to check it out. We also count on local teachers, who can talk about it in the lessons of regionalism – the village administrator explains. Not without significance for the decision was the fact that the roundabout, which at the end of the year is to receive a formally new name, is located a stone's throw away from the parish of Divine Providence. One of the initial ideas assumes that a small ceremony related to the naming of the name took place during next year's celebration of the 120th anniversary of the local Volunteer Fire Brigade.

To far away to Międzyrzecz

For centuries the inhabitants of Ligota suffered from the lack of their own church. The population was increasing, and the church in Międzyrzecz was a long way. History entered new tracks on March 26, 1801, when Paweł Czaderski (Czadersky) made a foundation letter. Having the patronage of Prince Sułkowski, he decided "… in the village of Ligota in the Bielski State, not only to build a branch church at his own expense according to the plan already submitted and by the high approved office, but also to ensure the maintenance of the clergy, maintenance of the necessary buildings, as well as shopping needed church – lighting, wine, incense and others of this kind. " At the same time, the founder reserved the income management of this temple until "crossing a certain threshold". He operated in the letter and other then – complex – definitions, that it is impossible to translate this agreement into a modern language without the help of … a specialist in bills from two hundred years ago. The landowner also wrote a separate condition, devoting him a separate, third, point: "Every cleric, employed in this premises according to the above provision, is obliged to pay 100 mites for me and my family every year." According to the parish registers, they were celebrated until the end of 1944.

Document from the tower

Another testimony to the beginning of the Ligki parish is the so-called a document from the tower, written by the first priest in Ligota, Błażej Olejak, filed in the church tower during its dedication in 1840. It was discovered years later – during renovation. In the beginning, the priest described that the two-hour march for the old and the weak to the church in Międzyrzecz was extremely troublesome. He added that it changed thanks to Paweł Czaderski, "the owner of the estate in Ligota No. 1 by his imperial royal Majesty of the late Franciszka I (…) by means of a palace decree issued in Vienna on June 10, 1800, No. 8069/780 ". He continued: "Wojciech Hanke, then the bishop commissioner, dean and parish priest in Bielsko, on June 24, 1801, solemnly sacrificed and laid the cornerstone. After five years of work, on 6 July 1806, the prelate, Commissioner Bishop Hanke made a solemn dedication to this church, dedicated to Divine Providence, in which the celebration of services began. Although the service of God in the church in Ligota was solemnly celebrated, and the undersigned as the first priest at this church from August 17, 1806, he was pastoral and other parish duties, but due to various obstacles, for the first time after six years, thanks the document of the Bishop's Office issued on January 7, 1812 in Frydek, parish in Ligota, the rights of other parishes were granted, and the undersigned was excluded from the jurisdiction of the parish priest in Międzyrzecz and obtained the rights he was entitled to.

What else is known about the builder of the Ligki church? In the chronicle of the "Monumenta et Dokumenta" parish in Międzyrzecz there is information about him, prepared by the parish priest of Jan Andrzej Neisser. It shows that Paweł Czaderski was born on July 30, 1747 in a poor family of Paweł and Elżbieta, who lived in Stara Wieś, in Galicja, then in Komorowicach Polskie, where his father was an organist. How can you read more: "Paweł Czaderski – from the beginning, a settler in Ligota, a tenant there, then a leaseholder-leasee in Bielsko, then a lord at Barku and finally a gentleman in Jawiszowice in Galicia, a man who came to an estate worth 300,000 Rhine guilders" .
Here is a picture of the roundabout.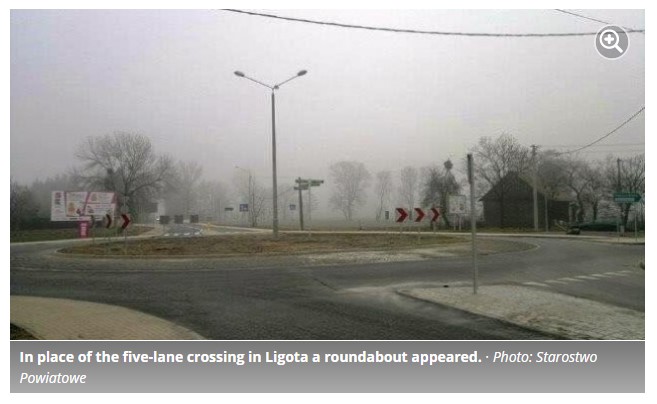 Here is a transcription of those letters he wrote founding the church in Ligota (is this the name for it in Polish? I am not quite sure).
Here is a picture of the church he founded.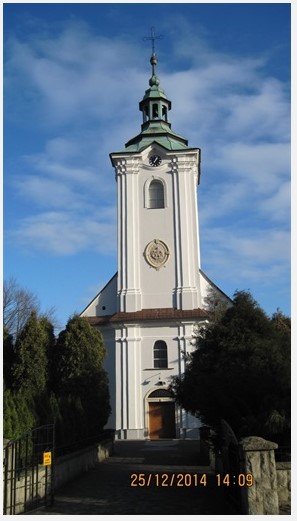 Here is a picture of his zámek in Dobroslavice before it was destroyed in 1945. Really all that remains is a nice park with a couple crosses and statues.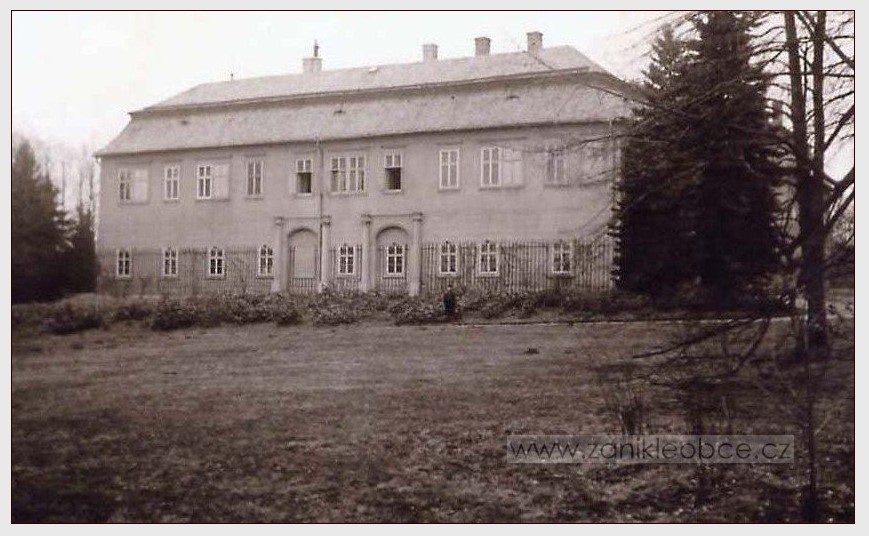 As I started to look for his wife Susanna's death record, I found my family surname in the index! I know I should not get too excited; after all, there are like a gajillion (rather, there were like a gajillion) Vasiceks all over this area. But it still confirmed the idea that peasants might have traveled between the various landholdings of their manorial lord, even if they were not immediately adjacent to one another.

So, I found Susanna's death dated 19 January 1830. She died at age 83 of "Entbrastung"? But what does that mean? I don't know.

Apparently she had moved to the family castle in Třebovice. I'm not sure why.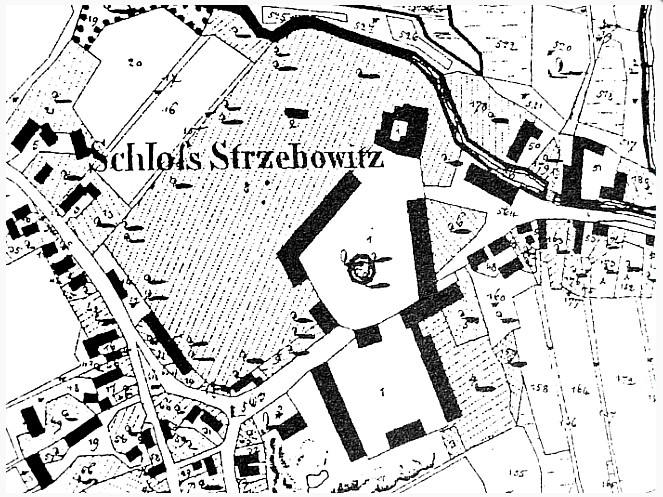 There is a reference to their move here which I did not find particularly illuminating:
Po něm držel Dobroslavice Antonín hrabě Vengerský, který 1791 od Josefa Vaníčka přikoupil statek Třebovice i s Martinovem. Brzo potom převedl to zboží všecko na sebe Josef rytíř Čaderský, kterýž dne 29 května 1815 pustil zase Třebovice i s Martinovem sestře své Marii, provdané Piatkové, kdežto po něm Dobroslavice se dostaly Vilémovi Ferdinandovi z Richthofen.
However, this this biography of notable people in Moravia dated 1890 was much more interesting. Here is my flawed transcription:
Czadersti Carl Ritter von, Besitzer von Herrschaft Nennowitz bei Brünn, geb. zu Nennowitz in Mähren im Jahre 1830. Der Adel der Familie Czaderski datirt vom Jahre 1806, indem Paul Czaderski (seit 1788 auf dem herzogl. Kammeral-Gute Ellgoth in Schleisien ausässig und Besitzer zweier Güter in Galizien und Realitäten in Schlesien) für seine Verdienste um die Förderung beziehungswiche Einführung der Deconomie und Industrie in iener Legend und in Anerkennung seiner frommen Stiftungen – er erbaute die Kirche in Ellgoth um 30.000 fl C. M. und unterhielt einen Beistlichen auf eigene Kosten – und seines humanitären Wirkens in den Adelstand erhoben. Das Wappen der Familie von Czaderski enthält neben dem Kreuze eine goldene korngarbe. Die beiden Söhne Paul von Czardersky's genossen eine öconomische Erziehung und bewirthschafteten die väterlichen Güter. Das Gut Nennowitz erbte die Mutter des gegenwärtigen Besitzers, Maria von Czardeski, von ihrem Vater Carl von Rechtenbach im Jahre 1831. Carl von Czaderski besuchte das Gymnasium in Brünn, die hochschule in Tübingen u. A. Er war durch mehrere Jahre mähr. Landtags- und Reichsraths-Abgeordueter.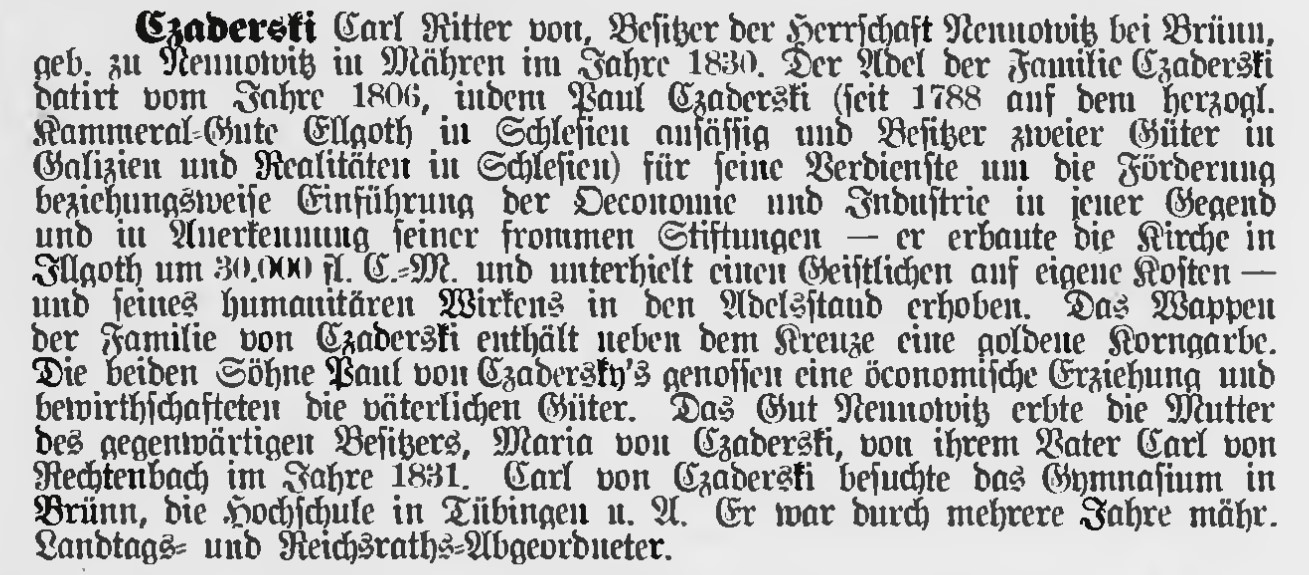 I think this basically recaps the same story of Pavel Czaderský, who had achieved some kind of status in 1788 (by the way, it seems he married his wife in 1787; could there be some kind of connection between these events?), owned two estates in Galicia and several others in Silesia. Pavel achieved nobility because he built a church in Ellgoth (I guess this is referring to that Polish church in Ligota, though I know of at least one village in the area named "Ellgoth", one Marianské Hory). Not only did he build it, but he set up a perpetual fund for the salaries of the church employees so they could be paid, all at his own expense apparently. So he gained the title of a noble, including a coat of arms with crosses and a golden corn sheaf (maybe wheat?). Pavel's sons got a good education, continued to improve his lands. Reading between the lines, this bio is about Carl knight Czadersti, who I think is the grandson of Pavel Czaderský? It seems that Pavel's son (who is not mentioned here, weirdly) married Maria daughter of Carl von Rechtenbach, and that is how Carl ended up with an estate near Brno in 1831, where he went to school.
This story brings to mind several dozen questions:
How am I supposed to spell Czaderský? Čaderský? Czaderski? I am not sure. In Czech plural it seems to be Čaderšti. How does it go from -ky to -ti?
How common was it to be granted a noble title for building a church?
How did Pavel Czaderský obtain enough money to fund a church?
Why did he apparently want to become a noble person?
What did the other nobility in the area think of him, a poor son of an organist, rising to the noble class?
What did the Vratimovers think of their new owners? Did they even know or care?
How often did the Czaderský family go to Vratimov?
How should I spell Czaderský, since apparently it is a Polish/Galician name?
Why did he want to live in Moravia and Silesia?
Why did his wife Susanna choose to leave Dobroslavice and live instead in Třebovice?
Where are the paintings of these people? I am sure they must have existed. But were they destroyed?
How did this family live in comparison to other noble families? It sounds like he was a pretty shrewd businessman. Did he economize at home?
Is the reason the family was basically forgotten from history (until the Poles dug up his name to memorialize a roundabout) because they were calm, peaceful, and non-contentious?
How can you learn more about the character of a noble person?
How mobile were his subjects between his various properties? I know they weren't legally required to get his permission to move around anymore (not since the 1780's), but poor peasants must have had considerable difficulty moving around if they were required to pay him the robota.
What did my Czechs think of a Pole running their estate? Or was it not like that at all? Were nationalist ties not a thing yet?
…but did this family speak Czech?
Is there a straight line between this family owning Gross Kunzendorf estate and the eventual near complete record loss of this estate?
Would one of my Czech friends be willing to write a very short wikipedia article about this family? Or should I ask the member of that MyHeritage site? Or should I find a living descendant who is Czech to do it? Or should I just try to do it myself?