Let Tracy Burns take you on dazzling journeys throughout the Czech Republic, Italy and other countries in Europe. Her blog, Tracy's Travels, is at www.taburns25.com. A resident of Prague for more than 20 years, she also has authored travel pieces at www.kissfromtheworld.com. She has been writing about Czech and Slovak literature for the academic journal Kosmas since 2002. She has published numerous articles in Czech, Slovak and English. She works as a writer, proofreader and editor.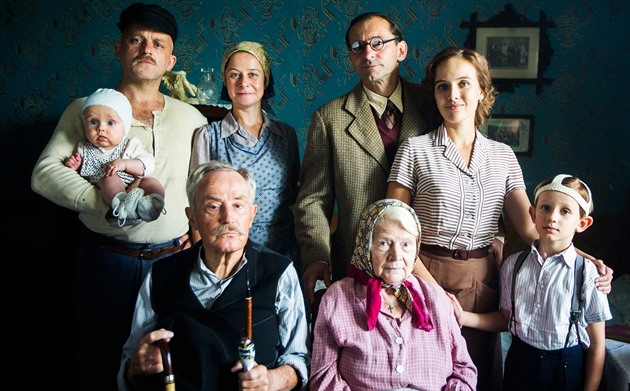 Based on the novella by Zdeněk Svěrák and directed by his son Jan, Barefoot focuses on the life of pre-adolescent Eda Souček, who moves with his parents from Prague to a village near the end of World War II. Everyday happenings and historical events punctuate this poetic film of vivid imagery and crisp dialogue. Eda tries to comprehend the complexities of the adult world in a time of war and chaos. The protagonist learns about betrayal, hatred and death but also about love, forgiveness and hope. The movie's structure is reminiscent of a collage of memories.
The film's title comes from the scene when Eda walks across a stubble field barefoot. This activity serves as a sort of initiation and a loss of innocence as he confronts something dangerous instead of turning away. Stubble is made up of dead, dry plants that are sharp and is reminiscent of a crucified country. The stubble can be seen as a country at war because everything is cut off. Also, it is symbolic of childhood having to end before adulthood can begin.
Death permeates Eda's world. His home in the countryside neighbors a cemetery. The clubhouse where he and his friends gather is in a mortuary, inside a big pile of discarded funeral wreaths. He looks in a pocket of a corpse for identification documents. His grandmother dies in a storm. When his father kills a rabbit, he holds the blood-smeared eyes in his palm.
Eda's parents order him not to speak to Vlk, his uncle whom the family has disowned because Vlk tried to strangle his mother. Eda comes to see Vlk as a human being who once made a big mistake rather than as someone evil. He realizes the situation is not black-and-white. One of the most memorable scenes shows Eda and his friends in a horse-drawn sleigh with Vlk. The sleigh makes tracks in the virgin snow of a large field. During that ride, the boys experience a sort of short-lived freedom.
While some scenes show everyday life, others are dramatic. Eda's bag gets caught on a branch of a wreath when the pile of wreaths is on fire, and the flames are about to engulf him. At the beginning of the film, Eda and his friend urinate from a bridge onto a German train of soldiers, who are quick to retaliate. In another scene, Eda and his mother are about to pick out of a lineup the Soviet soldier who stole their vacuum cleaner. The commander of the Soviet troops informs her that the culprit will be shot. Gripping her son's hand, Eda's mother looks each terrified soldier in the eye.
The acting is superb. Alois Grec plays Eda while Ondřej Vetchý and Tereza Voříšková play his parents. The late Jan Tříska gives a stellar performance as the strict grandfather unable to forgive Vlk, who is so masterfully represented by Oldřich Kaiser. Petra Špalková, Hynek Čermák and Viera Pavlíková also bring their characters to life. Zdeněk Svěrák brilliantly plays Eda's teacher, a Czech patriot.
The film takes its plot from Zdeněk Svěrák's fourth book for adults, Po strništi bos. He is also the co-author of many plays for the Jára Cimrman Theatre, where he has acted for more than 50 years. He has penned numerous children's books and screenplays, too. He has often made films with his son. Perhaps the father-son duo is best known for the Oscar-winning film, Kolya. The older Svěrák wrote the screenplay for the 1996 winner and played the main role while the younger directed. Other films the two have worked on together include Dark Blue World, Empty Bottles and The Three Brothers. Their film Elementary School was nominated for an Academy Award in 1991.
Poignant and powerful, Barefoot will capture your heart as you become immersed in Eda's complex world. The film opened in Czech cinemas during August of 2017 and is now available on DVD and Blu-ray.