Guess what?
GeneaBloggers was about to die. Thomas MacEntee was moving on to his new site: AbundantGenealogy.com. He basically realized that the vast majority of the traffic to his site comes from Facebook instead of blogs, and it wasn't really worth all his gargantuan effort to continue with it. This post explains the pros and cons of publishing your genealogy content on Facebook vs. Blogger, which is really interesting to me.
Actually, the very vast majority of hits on my blog come from Facebook. I can immediately tell my looking at my stats whether or not I remembered to cross-post something there; if I did, it will have 100+ views. If I didn't, maybe 25. And then a post somehow hits the SEO jackpot and gets a thousand hits, making me feel really happy, and inflating my ego really huge.
But truly, I don't blog for the stats. I blog for myself. Rather, I blog for that person who, like myself, was really longing to find some knowledge about Czech genealogy research, and couldn't. I blog the bits and pieces of knowledge I learn on the way so that others might be spared a tiny bit of the learning curve.
Anyway, it was about to die.
But then a group of us genealogy bloggers came together and resurrected it as GeneaBloggersTRIBE (for now). Every day that goes by, my admiration and respect for Thomas MacEntee's brain deepens. This guy was a genius. Also a workaholic and glutton for punishment, because A. Ton. Of. Work. went into the website. I never knew that before, because I only ever used it for the daily blogging prompts.
To be honest, that is the same reason why I became a team member: because I care about the daily blogging prompts a lot.
So, what is GeneaBloggers, you (and I) might ask?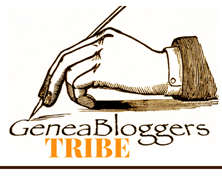 The purpose of GeneaBloggers (and GeneaBloggersTRIBE) is:
support genealogy bloggers including content-providers on a variety of platforms

share information on resources

permit free use of fM's several logo graphics among members expressing solidarity

exclude commercial advertising

disallow corporate ownership
I volunteered to join the team because I really love blogging and I really wanted my teeny tiny Czech corner of the genealogy world to be represented. I'm really happy to be part of this team, even though we realized that we aren't necessarily all bloggers per se. We are basically internet genealogy content providers, via social media, vlogging, blogging, etc.
Some changes are coming to the site which should be really good. I think change is exciting and I like fresh starts. It is cool and exciting to me to be a part of a group of people who write about/produce content about genealogy, even though they are all focused on :::cough cough hem hem::::
less interesting things
. What? Not everybody gets off on diacritical marks and transcribing German current script?! How is that…possible?
I am definitely one of the youngest (perhaps the youngest?) on the team but I'm definitely not the most tech savvy. For example, I basically know almost nothing about twitter, and my idea of a "vlog" is to upload posts to youtube and crosspost to blogger, which is probably not the way real vloggers do it. Working with the team, I see that I have so much to learn. About everything.
But it is really fun to learn.